Trump's Rape Accuser Backs Out Of Public Appearance Citing Death Threats
The woman who accuses Donald Trump of raping her at a party when she was 13 has so far remained anonymous. Trump has vehemently denied the allegations.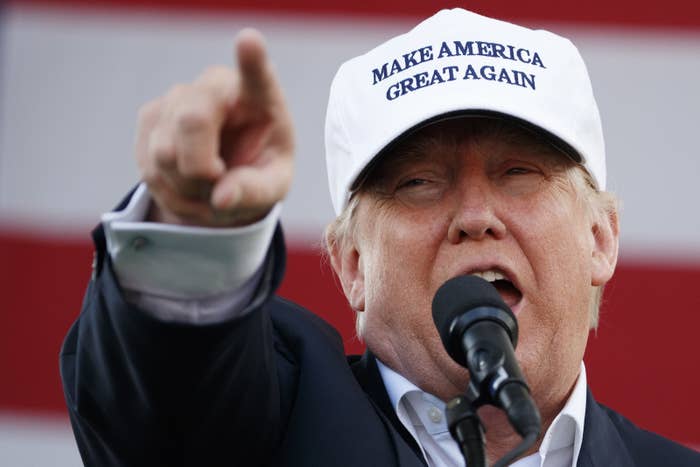 LOS ANGELES — A woman who alleges Donald Trump raped her at a New York party when she was 13 declined to come forward publicly for the first time at a news conference Wednesday, citing death threats she has received since filing her lawsuit.
The woman, identified only as Jane Doe, filed a lawsuit in June claiming Trump raped her in 1994 at a party thrown by Jeffrey Epstein, who was convicted in 2008 of soliciting an underage girl for sex. But she did so under a pseudonym and has remained anonymous.
That was supposed to change Wednesday at a news conference organized by attorney Lisa Bloom, daughter of Gloria Allred, outside Los Angeles. But with reporters packed inside a room, Bloom said her client decided to reschedule because she feared for her safety.
"Jane Doe has received numerous threats today, as have all the Trump accusers that I have represented," Bloom told reporters. "She is living in fear. She has decided that she is too afraid to show her face. She has been here all day, ready to do it, but unfortunately, she's in terrible fear."
The case hasn't been widely covered by the media skeptical of the explosive claims made by an anonymous plaintiff. Questions have also been raised in reports by The Guardian, Daily Beast, and Jezebel about how the lawsuit came about, and whether there are other motivations, given that politically active "Never Trump" operatives have been heavily involved in pushing the story.
Jane Doe's legal path so far has also been rocky. Her original lawsuit filed in California was thrown out in May for failing to state a specific civil rights violation. And the home listed for sending court notices in the case was ultimately found to be a foreclosure under a different name.
A new lawsuit filed in New York on her behalf by a patent attorney drops several more graphically violent accusations and adds two witnesses identified only as "Joan Doe" and "Tiffany Doe." She is also seeking $75,000 in damages, instead of $100 million.
Trump's campaign has rejected the woman's claims. And after the California complaint was filed, Trump told Radar Online:
"The allegations are not only categorically false, but disgusting at the highest level and clearly framed to solicit media attention or, perhaps, are simply politically motivated. There is absolutely no merit to these allegations. Period."
Trump has been accused by multiple women of sexual misconduct who have come forward with their stories after a 2005 Access Hollywood tape was made public and showed him bragging about kissing women, grabbing them "by the pussy," and attempting to have sex with a married woman.