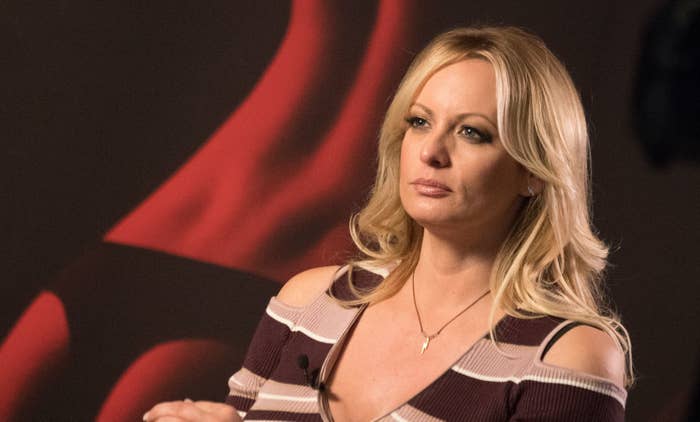 An attorney for Donald Trump asked a federal judge Monday to order Stormy Daniels to pay $800,000 in legal fees and penalties for bringing her failed defamation case against the president.
In accounting for his request, the lawyer, Charles Harder, told the judge that his firm has spent more than 500 hours defending his client against the defamation allegations. Harder also asked the judge to penalize Daniels with equal sanctions to serve as a deterrent and prevent any future "frivolous defamation claims."
Daniels, the adult film star whose legal name is Stephanie Clifford, filed her lawsuit against Trump in March alleging that the president had defamed her in a tweet. US District Judge James Otero ruled in October that the tweet in question was protected and not actionable because it involved the opinion of a public official and was not a statement of fact. In throwing out the case, Otero also ruled that Trump could recoup his legal fees.
The April tweet followed Daniels' decision to speak out publicly about an alleged affair she'd had with Trump in 2006, and the release of a composite sketch of a man she said threatened her five years later to keep quiet about the relationship. In his message, Trump called the sketch a "total con job ..."
Daniels' attorney Michael Avenatti, who is appealing Otero's dismissal of the case, called Harder's request for damages "outrageous."
"An absolute joke and a fraction of what Trump and Cohen will owe Stormy from the main NDA, which they pretend doesn't exist," he told BuzzFeed News after Monday's hearing.
Otero has not yet ruled on Harder's damages request.
Daniels did not attend the hearing and was instead in Washington, DC, Monday night, performing and conducting a meet-and-greet at a local club. There have been rumors of tension between her and Avenatti since he was arrested last month for domestic violence charges. Avenatti denied the allegations against him, and the Los Angeles District Attorney has since declined to file felony charges.
Following Avenatti's arrest, Daniels expressed concern about the allegations against her lawyer. She also claimed that she never authorized him to sue Trump in the first place and that Avenatti had started a crowdfunding campaign for her legal fees without her permission.
On Sunday, though, Daniels said that she and Avenatti had worked things out.