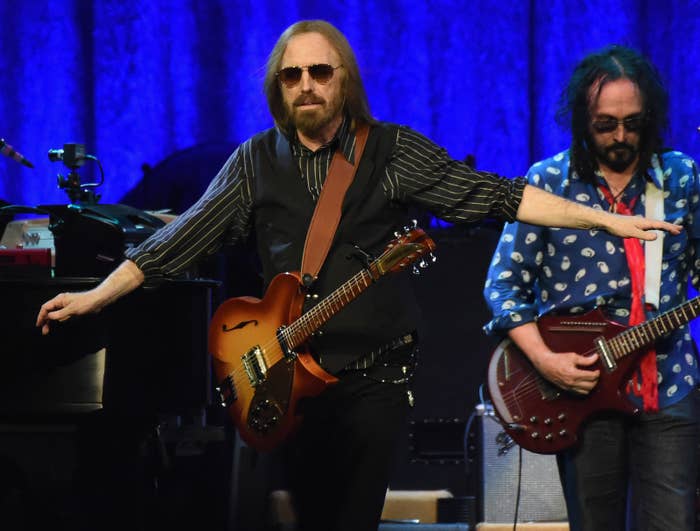 Iconic rock star Tom Petty died of an accidental overdose, with multiple drugs found in his system, according to the medical examiner's report released Friday.
The frontman of Tom Petty and the Heartbreakers suffered cardiac arrest in his home on Oct. 3, and was taken via ambulance to UCLA Medical Center, where he could not be revived and was pronounced dead. He was 66.
An autopsy concluded that the cardiac arrest was due to mixed drug toxicity. He had a mixture of fentanyl, oxycodone, temazepam, alprozolam, citalopram, acetyl fentanyl, and despropionyl fentanyl in his system, according to the Los Angeles County medical examiner's office.
His family posted on Facebook that Petty was taking multiple medications because he had "many serious ailments including emphysema, knee problems and most significantly a fractured hip."
"Despite this painful injury he insisted on keeping his commitment to his fans and he toured for 53 dates with a fractured hip and, as he did, it worsened to a more serious injury," the post states. "On the day he died he was informed his hip had graduated to a full on break and it is our feeling that the pain was simply unbearable and was the cause for his over use of medication."
Petty's family hopes that the singer's death sparks further discussion on the opioid crisis, adding, "Many people who overdose begin with a legitimate injury or simply do not understand the potency and deadly nature of these medications."
Prince also died of an accidental opioid overdose. The legendary musician died in 2016 at his Minnesota home of an accidental overdose of fentanyl — a synthetic opiate — according to his autopsy and toxicology reports.

The US is in the midst of an epidemic of drug overdose deaths, with nearly 65,000 people killed by heroin, cocaine, and prescription painkillers in 2016, a 21% jump from a year earlier. Fentanyl and other synthetic opioid painkillers are now the leading cause of overdose deaths nationwide, killing more than 20,000 people last year, according to provisional CDC data.

US life expectancy dropped for a second straight year in 2016, to 78.6 years, federal health officials reported on Thursday. The decline — down from 78.7 years in 2015 and 78.9 in 2014 — was driven by a large increase in fatal drug overdoses.