It's been more than four years since Kesha has released an album, but Sony Music confirmed Friday that it is working to end that drought, telling BuzzFeed News it hopes to deliver new music to fans soon.
"Creating a new album takes time, and everyone's goal is to deliver a high quality album consistent with Kesha's past releases," according to a statement from Sony Music. "We hope to share exciting new music with Kesha's fans soon."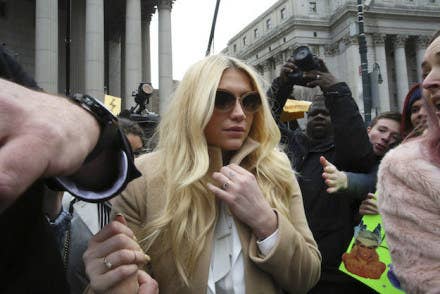 The "Tik Tok" singer has been locked in a legal battle with music producer Dr. Luke in New York as she tries to get out of an exclusive multi-record deal, arguing that she can no longer work with a man she alleges drugged and sexually assaulted her.

Dr. Luke has strongly denied the allegations, accusing the singer of using them to leverage her way out to a more lucrative deal. And earlier this year, a New York judge denied Kesha's request to be released from her current contract.

During it all, Kesha has remained bound to Dr. Luke and his Kemosabe label under Sony Music, unable to strike out on her own until a judge either takes her side, or she fulfills the terms of her recording contract.

To that end, Kesha submitted 28 songs this summer to Kemosabe, and Sony says executives from its label, RCA, have been in regular contact with all parties "to keep the process moving forward." Kesha has also agreed to a list of other producers with whom she is willing to work.
While hopeful for a new album soon, Kesha's attorney, Daniel Petrocelli, said he remained skeptical.
"Kesha has been trying for six months to record and release new music," Petrocelli said in a statement. "Only in the last month, after our last court hearing, has any progress been made, but it is hardly enough. Kesha still has received no commitments on promotion, songs, or even a release date.
"We hope things turn around fast. Meanwhile, Kesha intends to continue participating in the creative process in the hopes she can meaningfully return to work."