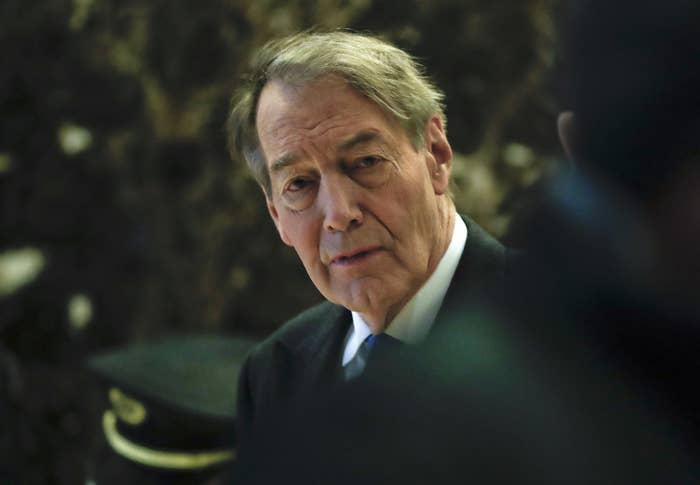 Three women filed a lawsuit against Charlie Rose and CBS News on Friday, claiming they endured constant sexual harassment from the former news anchor and then faced retaliation when their complaints were made public.
Katherine Brooks Harris, Sydney McNeal, and Yuqing "Chelsea" Wei filed a joint lawsuit in New York state court claiming CBS was fully aware of Rose's alleged sexual harassment but failed to take any action for decades. The women, who were junior employees in their twenties when the alleged incidents occurred, claim that after news reports surfaced detailing their accusations, they were retaliated against by management. Two of them said they were summarily fired.
Rose himself was fired in November after a Washington Post report detailed allegations by eight women that he sexually harassed them while they were working on his self-titled show on PBS.
His lawyer, Bob Bodian, told BuzzFeed News via an emailed statement, "The claims in the lawsuit filed today against Mr. Rose are without merit."
The three women claim they were required to spend a substantial amount of time working with Rose, during which they were subjected to "repeated, ongoing, and unlawful physical and verbal sexual harassment." The women allege that Rose repeatedly touched them, caressing and touching their arms, shoulders, waist, and back, pulling them close to his body, and kissing them on the cheek.
Harris and McNeal claim they were required to have dinner with Rose and he would ask them about their sex lives. They also allege that Rose suggested that they both have sex with each other. In one instance, when they had to go to his house for an errand, Rose allegedly told them, "I better not hear any stories about two young women swimming naked together."
Wei said Rose called her "China Doll" and caressed her arm when she handed him papers, allegedly saying, "I love the way you do that."
The women also allege Rose was verbally abusive and called them "fucking idiots."
Harris and McNeal allege that after reports of Rose's behavior were published in various media outlets, they were fired. Wei said she was retaliated against after she filed a complaint against Rose and was demoted from her position with the anchor teams.
A CBS News spokesperson said, "We will vigorously defend against the allegations pertaining to CBS News."