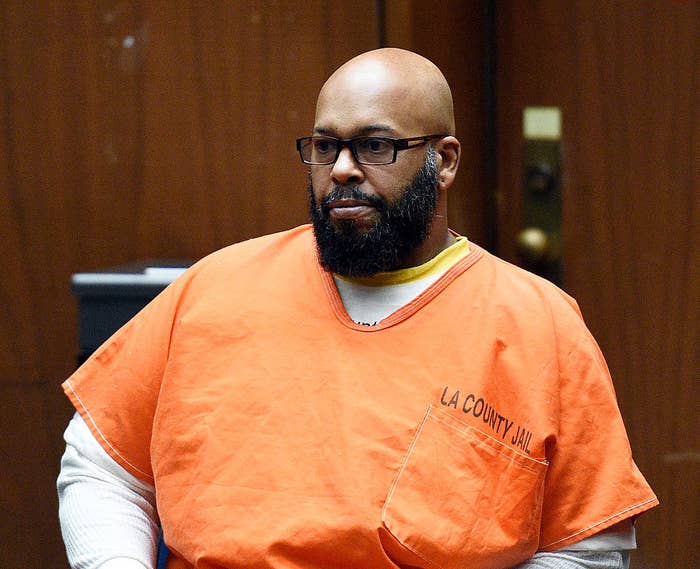 Marion "Suge" Knight on Thursday pleaded no contest to manslaughter in the 2015 death of a man he ran over and killed in a Compton parking lot after an argument. In exchange for his plea, Knight will spend 28 years in state prison.

Knight hit two men in the incident — Cle "Bone" Sloan survived, but Terry Carter died. The rap mogul had been charged with one count of murder, one count of attempted murder, two counts of hit-and-run with an allegation that he committed a serious and violent felony while out on bail in another pending case. He pleaded guilty to one count of voluntary manslaughter and admitted a special allegation that he used a deadly weapon, a truck.

Knight, whose trial was slated to start on Monday, was facing life in state prison. He will be formally sentenced on Oct. 4.
By entering his plea, Knight will also resolve two other pending criminal cases. Knight was indicted for making criminal threats in August 2014. He also was charged for allegedly stealing a camera from a woman in September 2014. Those charges would be dismissed by a judge at sentencing.
The lead-up to the trial was not without controversy. Knight collapsed in court when the judge set his bail at $25 million. His girlfriend, Toi-Lin Kelly, and his business partner, Mark Blankenship, were indicted for allegedly violating a court order by selling video that was under seal in the case to TMZ for $55,000. (Kelly pleaded no contest to violating the order and was sentenced to five years' probation and ordered to perform 100 community service hours, and to pay $55,000 in restitution to Tam's Burgers.)
Two of the lawyers who represented Knight were also indicted on conspiracy charges for allegedly attempting to bribe witnesses and obstruct justice.