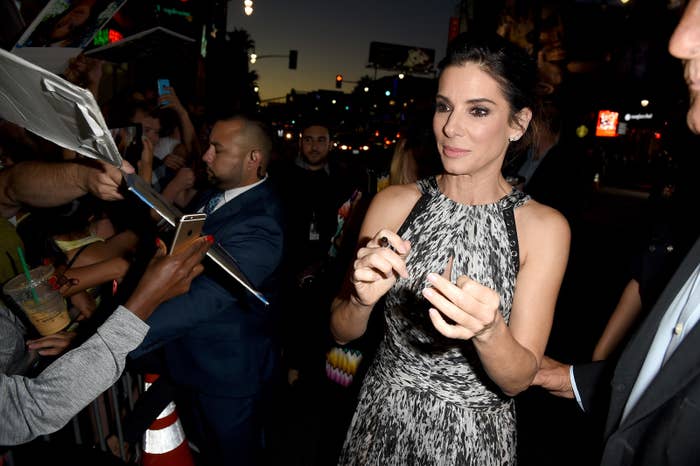 Sandra Bullock's stalker killed himself at his house Wednesday after he was confronted by officers for failing to show up for a court hearing, officials told BuzzFeed News.
Joshua James Corbett, who spent almost three years in jail after he was arrested in 2014 for breaking into Bullock's home while she was there, had been on supervised probation that required regular check-ins with the court.
A Los Angeles police spokesman would not confirm Corbett's identity, but said the suspect barricaded himself inside before killing himself. The Los Angeles County coroner's office, however, confirmed that Corbett's death was being investigated as a suicide.
"It's really sad," his attorney, Steve Sitkoff, told BuzzFeed News. "He has been having some mental health issues and hadn't been doing really well, according to his dad, and he didn't want to come to court."
Corbett, 42, was convicted of first-degree residential burglary and stalking after he climbed a fence to access Bullock's house while she was present. Bullock called 911 after locking herself in her bedroom closet until police arrived.
He was originally charged with 26 felonies, but 24 of those charges were related to his possession of guns and were later dismissed by a judge who ruled that Corbett's rights were violated, leading him to involuntarily give authorities permission to search his house and gun safe.
Sitkoff said his client had been complying with all probation requirements since his release on March 6, 2017 — that is, until he failed to show up for his most recent probation hearing on April 11.
"We just couldn't get Josh to court," he said.
LAPD officers arrived at Corbett's parents' house in the Los Angeles suburb of La Crescenta at 6:45 a.m. to serve him with an arrest warrant.
LAPD spokesman Tony Im told BuzzFeed News that guns, which Corbett was prohibited from possessing as a condition of his probation, were not involved.
Sitkoff said attempts were made to bring in himself and a family member to try to persuade Corbett to come out, but to no avail.
"I just think it is emblematic of the fact that our system is not really designed to really help people with some serious mental health issues that overlap with criminal cases," he said.
A representative for Bullock did not immediately respond to a request for comment.