A Woman Says Russell Simmons Raped Her In New York: "It Was Such A Fast Attack"
"I must have said no seven to 10 times," Alexia Norton Jones told Variety.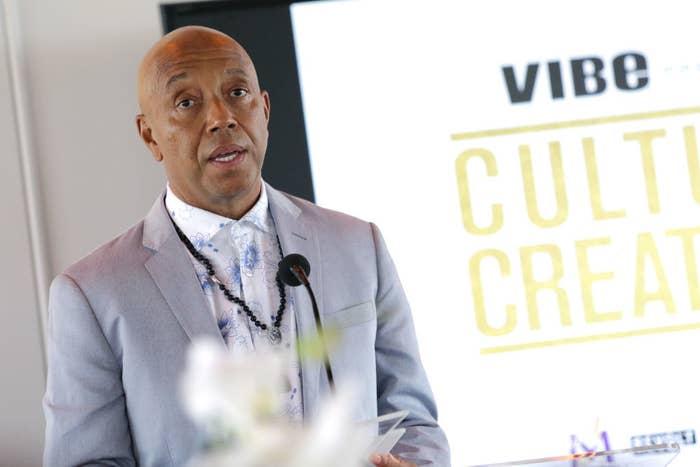 Russell Simmons is being accused by another woman of rape, this time allegedly during a date in New York in 1990.
The woman, Alexia Norton Jones, told Variety that when she was 31, Simmons invited her to see his new apartment in Manhattan after taking her out on a date. Once inside, she alleges, Simmons pinned her against a wall and raped her.
"It was such a fast attack," she told Variety. "He pulled my dress up. I must have said no seven to 10 times."
Jones, the granddaughter of book publisher W.W. Norton, was an aspiring model and actor at the time. She said Simmons continued to pursue her at social events. (BuzzFeed News does not typically identify alleged victims of sexual violence unless they come out publicly.)

She is the latest woman to allege Simmons raped or sexually assaulted them. More than 12 women have come forward with similar allegations, which the music mogul has vehemently denied. The Def Jam Recordings cofounder did, however, step down from his corporate leadership roles after screenwriter Jenny Lumet penned a guest column for the Hollywood Reporter in which she accused him of raping her in 1991.
In a statement to BuzzFeed News on Tuesday, Simmons again denied any allegation of sexual misconduct.
"I have respectfully, factually and comprehensively denied the charges of sexual violence against me. From the very first allegation in October, I have provided statements of witnesses who testified to my innocence some thirty years ago. Most witnesses from years back were and remain afraid for their standing, their families and their professions," he said in the statement. "It is certainly true that there were and remain hurdles to calling out abusers. I have said from day one that I support and advocate truth telling and holding abusers fully to account."
In a statement to Variety, he also said he was "deeply saddened" by Jones' allegations.
"At no time did she share these feelings about her first sexual encounter with me, which took place roughly 28 years ago," he said. "I have taken multiple lie detector tests that affirm I never sexually assaulted anyone.
"Alexia and I dated, were intimate and attended multiple events together after she alleges the incident occurred in 1990. I considered her a friend for all these years and continue to have a warm relationship with members of her family.
"I believe we last spoke in 2006 when she called to express her disappointment over the fact that I had not attended an event honoring her father."
In her firsthand account to Variety, Jones wrote that while she is a victim, "I didn't end up living like a victim.
"I ended up forgiving Russell simply for one reason: time. I would run into him at social events decades later, and I saw a difference in him and the way he acted after he got clean," she wrote. "Russell doesn't get to be my jailer."
She added that while she would likely have kept her story quiet, it was his denial of violence toward other women that prompted her to come forward. She even filed a report with New York police decades later detailing her allegations.
But that's as far as she's taking the matter.
"I don't want any money from Russell," she wrote. "I'm not suing him."
The NYPD, which is investigating other sexual assault allegations against Simmons, did not immediately respond to a request for comment.