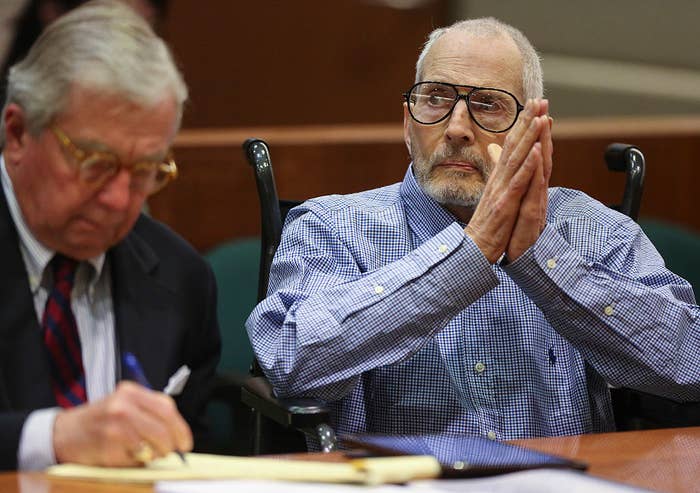 Robert Durst, the millionaire real estate heir and subject of the HBO docuseries The Jinx, has been ordered to stand trial for murder in the execution-style killing of his friend in 2000.
After months of Los Angeles court hearings, a judge on Thursday determined there was enough evidence to proceed with a trial. Durst, 75, is accused of killing his 55-year-old friend Susan Berman, who was found dead in her LA-area home on Christmas Eve 2000. Prosecutors allege that Durst killed her because she was about to be questioned by New York police, who had reopened an investigation into the 1982 disappearance of his first wife, Kathleen. She has never been found.
Berman, the daughter of a Las Vegas mobster, was shot in the back of her head on or around Dec. 23, 2000.

Durst pleaded not guilty to murder with special circumstances for lying in wait in 2016, telling a judge, "I am not guilty. I did not kill Susan Berman."

But comments he made during the filming of the six-part documentary have not helped his case. In the last episode of The Jinx, which aired the day after Durst's arrest, filmmaker Andrew Jarecki confronted Durst with evidence that he had killed Berman.
Durst denied the accusation, but after the interview, his live microphone recorded him during what he thought was a private moment.
"What the hell did I do?" he said. "Killed them all, of course."
In comments to prosecutors that were made through a closed-circuit camera interview inside a jail facility on March 15, 2016 — after he waived his Miranda rights — Durst told prosecutors he was high on meth during interviews for the HBO series.
"I was on meth. The whole time I was on meth. And, when I looked at the little pieces of it, I was going like this, and like that. And it was — it should have been obvious," Durst said, according to court documents released in 2016. "And I'm surprised my lawyer let me go ahead with it 'cause it just, I looked like there was something going on."
Prosecutors have said they will not seek the death penalty. Instead, Durst faces a maximum sentence of life in prison without the possibility of parole if convicted. He has been in custody for a weapons charge after the FBI raided his hotel room and discovered an unauthorized .38-caliber revolver.
No trial date was immediately set.