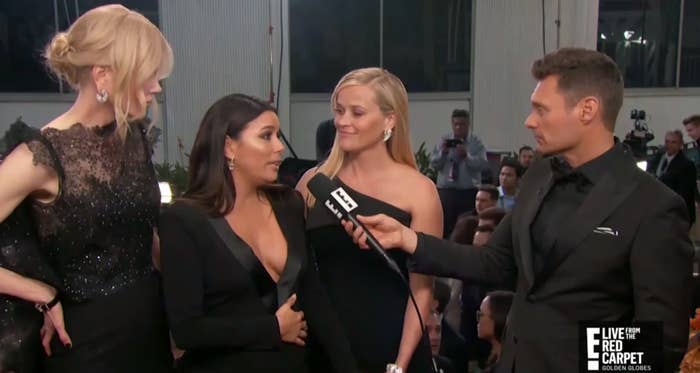 A female producer alleges she was fired from E! after running Eva Longoria's red carpet comment earlier this year supporting a news host who left the network after finding out her male colleague made double her salary.
The interview on the Golden Globes red carpet with Ryan Seacrest in January came as Hollywood was going full throttle on the #MeToo and Time's Up movements, and E! had found itself in the thick of it when news host Catt Sadler left the network over the wide pay disparity with her cohost Jason Kennedy.
In the segment, Longoria talked about the importance of equal pay and gender equality, before saying, "We stand with Catt."
Debra Messing also called out the network in a red carpet interview with E! host Giuliana Rancic.
"I was shocked to hear that E! doesn't believe in paying their female cohosts the same as their male cohosts," she said. "I miss Catt Sadler."
The producer, Aileen Gram-Moreno, filed her complaint Thursday with the Equal Employment Opportunity Commission, alleging E! executives were so concerned about celebrities discussing the Sadler issue on the red carpet that they planned to do all prerecorded interviews for the post-show to ensure there was no mention of her.
Gram-Moreno, who said she objected to any plan to censor interviews discussing Sadler, claims she was also told to flag any interviews that mentioned Time's Up or #MeToo.
Five days after the Golden Globes, Gram-Moreno says her employment was terminated, with the executive producer citing the Longoria interview.
The discrimination filing comes as attention turns to how celebrities will treat E! red carpet host Ryan Seacrest during the Oscars on Sunday. The host faces allegations that he sexually harassed his former stylist — allegations he strongly denies and that E! says he was cleared of after an internal investigation.

E! has strongly backed Seacrest, a red carpet staple, amid the controversy. And on Friday, the network said Gram-Moreno was was terminated from her part-time freelance position for job performance issues, and accused her of trying to shake E! down.
"For the past decade, Aileen Gram-Moreno was a freelancer who worked an average of 20 days per year solely for our red carpet coverage," the network said in a statement. "After the Golden Globes she was asked not to return due to job performance issues. Following an attempt to force E! to pay for her silence Ms. Moreno is now spreading misleading and inaccurate information."

A source at E! who was not authorized to discuss the matter publicly told BuzzFeed News that Gram-Moreno was never told to censor any interviews, only to flag details to the show's executive producer. Her role as a red carpet producer was to provide the full context of the interview — whether there were curse words, whether the clip contained a funny or buzz moment, or whether the clip contained anything controversial, the source added.
But Gram-Moreno's attorney, Katherine Atkinson, disputed the claims.
"In the 12 years Aileen has been working on red carpet shows for E!, they never once raised a performance issue," she said. "That is a convenient excuse for covering up attempts to silence women speaking out. Employers often attack women speaking out about discrimination, so I am disappointed in E!, but not surprised."
Sadler condemned the producer's dismissal in a statement to Variety on Saturday.
"It's disappointing that any network would order the censorship of opinions," Sadler said. "But it's particularly disturbing in this case because we are at a cultural tipping point where women feel more and more comfortable being vocal about issues like pay equality and sexual misconduct. To shut down those conversations is to stifle progress."