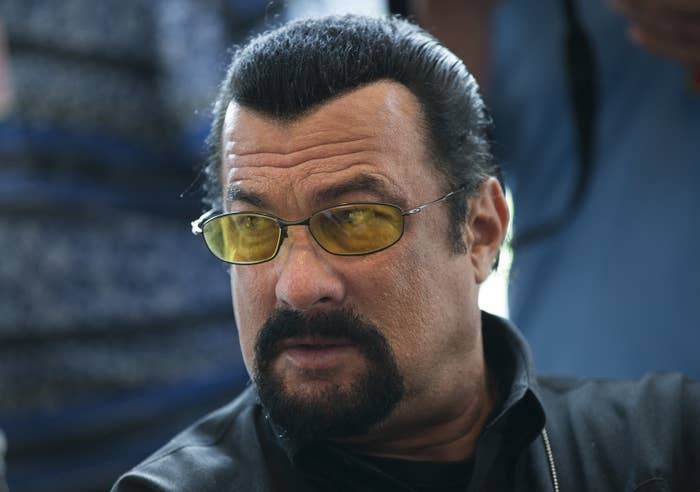 Portia de Rossi on Wednesday joined the chorus of women in Hollywood alleging sexual misconduct, writing on Twitter that Steven Seagal unzipped his leather pants during an audition to see if they had chemistry "off-screen."
The Arrested Development actor wrote on Twitter that the audition took place in Seagal's office.
"He told me how important it was to have chemistry off-screen as he sat me down and unzipped his leather pants," De Rossi tweeted. "I ran out and called my agent. Unfazed, she replied, 'Well, I didn't know if he was your type.'"
Representatives for De Rossi and Seagal did not respond to requests for comment Wednesday afternoon.

It wasn't clear when the alleged incident was said to have occurred, but De Rossi's allegations are just the latest to be leveled against men of power in Hollywood after dozens of women came forward to accuse producer Harvey Weinstein of sexual assault. In that time, actors, directors, filmmakers, and agents have also been accused of sexual assault and misconduct — by men and women.
De Rossi is also not the first woman to accuse Seagal of sexual misconduct.

Actor Rae Dawn Chong told the Hollywood Reporter a similar story of being sent to Seagal's hotel room for a 9:30 p.m. audition in 1989–90 that allegedly devolved into an instance of sexual harassment after Seagal exposed himself. She said after she complained to her agent, Kevin Huvane, she was labeled difficult to work with, which impacted her career.
Neither Chong nor Huvane responded to requests for comment.
The Good Wife star Julianna Margulies has also said publicly that she was summoned to Seagal's New York hotel room for an audition when she was 23, and when she arrived, discovered that they were alone. She told SiriusXM's Just Jenny that after she saw his gun, she "got out of there unscathed."
Seagal was also sued by former assistant Kayden Nguyen in 2010 for alleged sexual harassment and illegal trafficking of women for sex.
Nguyen said she was hired as an executive assistant to do standard clerical duties. But in her complaint, she said she was told she would need to relocate from Los Angeles to New Orleans where Seagal was filming a television show. She was later told on the plane that she would be living in the same house as Seagal and his family.
On her first night in the New Orleans house, Nguyen alleged, Seagal appeared in her doorway at 3 a.m. and demanded that she give him a massage. She also claimed in her lawsuit that Seagal treated her "as his sex toy" and forcibly put his hands down her pants into her vagina, lifted up her blouse, and "attempted to suck her breast and nipples." She fled the property in the middle of the night, leaving her personal belongings, including a laptop and car keys, behind.
Nguyen claims she was later told she would not get her belongings back unless she signed a release agreeing not to sue.
Four months after filing in court, Nguyen withdrew her complaint. Court papers do not state if a settlement was reached.