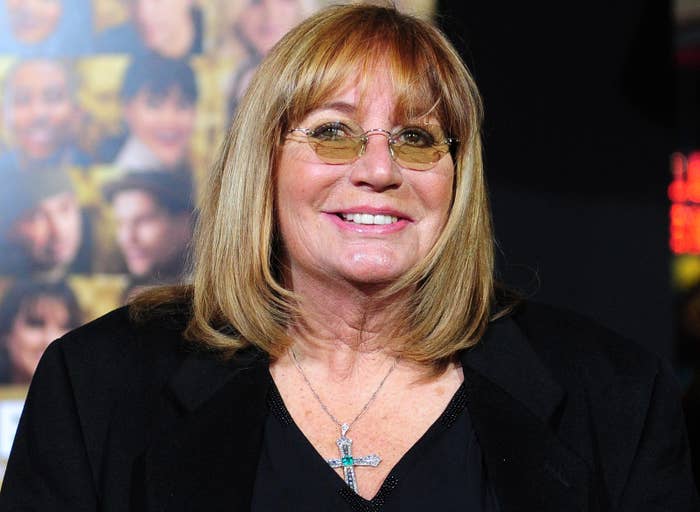 Penny Marshall, who costarred in the television ratings hit Laverne & Shirley before becoming a successful movie director, has died. She was 75.
A family spokesperson confirmed that Marshall died at her Hollywood Hills home due to complications from diabetes.
"Penny was a girl from the Bronx, who came out West, put a cursive 'L' on her sweater and transformed herself into a Hollywood success story," the family said in a statement. "We hope her life continues to inspire others to spend time with family, work hard, and make all their dreams come true."
Marshall first broke into television sitcoms by playing Oscar Madison's secretary in the Odd Couple and later as a neighbor on the Mary Tyler Moore Show.
But her real break came when her brother cast her and Cindy Williams, her writing partner, as two friends, Laverne and Shirley, on a double date with characters in Happy Days. Their bit parts later spun off into their own sitcom, Laverne & Shirley, a show that centered on the adventures of two roommates who worked at a beer bottling plant in Milwaukee.
The show was a ratings hit for ABC in the 1970s into the '80s. Her brother and executive producer of the show, Garry Marshall, said in an interview for the Archive of American Television that viewers were hungry for someone more relatable than "all the pretty girls on TV" at the time.
"They wanted somebody who looked like a regular person. And my sister looks like a regular person — talks like a regular person — and Cindy Williams was brilliant as Shirley," he said.
After the show ended in 1983, Marshall went on to become a pioneering director in Hollywood. Her film Big, starring Tom Hanks, made her the first woman to direct a movie that grossed more than $100 million. She followed up that success with A League of Their Own, starring Geena Davis, Tom Hanks, Madonna, and Rosie O'Donnell.
News of her death prompted a wave of remembrances on social media, including a showrunner for The Simpsons, who said Marshall was the first guest actor on the animated show.
Director Ron Howard said his former Happy Days co-star "made the transition from sitcom to A List movie director with ease." He also tweeted that he was lucky to have known and worked with her. Marshall's former husband Rob Reiner said she was born with a great gift of "a funny bone and the instinct of how to use it." Tom Hanks and Rosie O'Donnell both posted tributes to Marshall.
In 2009, Marshall was diagnosed with a brain tumor and lung cancer, but said in 2012 she was in remission.

She was married twice, first to Michael Henry and later to actor and director Rob Reiner, and is survived by her older sister Ronny, daughter Tracy Reiner, and her three grandchildren, Spencer, Bella, and Viva.
Her brother died in 2016.
CORRECTION
Marshall was diagnosed with a brain tumor and lung cancer in 2009. A previous version of this post misstated the date.