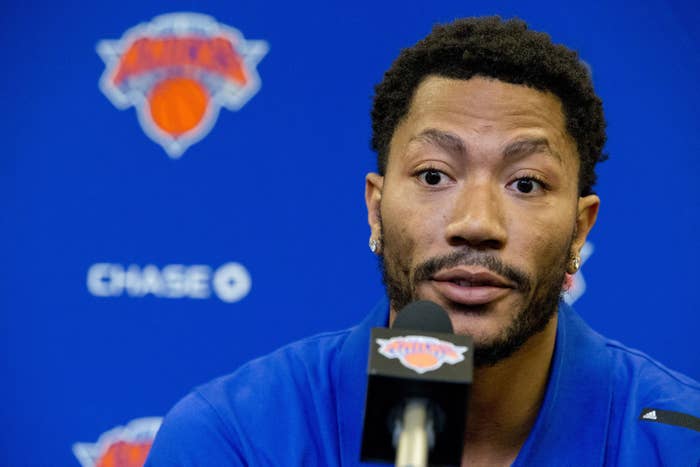 After a 10-day trial, a jury heard closing arguments Tuesday in the $21 million sexual battery civil lawsuit against New York Knicks point guard Derrick Rose and his two close friends Randall Hampton and Ryan Allen.
Rose and his two friends are being sued by an ex-girlfriend, using the pseudonym Jane Doe, who alleges that she was gang raped and sexually assaulted by the men while she was unconscious. BuzzFeed News is declining to name the accuser because she says she is a victim of sexual assault.
Lawyers for Rose said in closing arguments that Rose's former girlfriend faked the accusations to extort money from the NBA star. Rose's defense team said the woman was angry after Rose broke up with her after she willingly engaged in sex with him and his friends.
The woman's lawyer says the defense was "slut shaming" her by lying about her behavior that night. Her attorney says she was unconscious and couldn't consent to sex, according to the Associated Press. It will be up to the jury of six men and two women to now determine whether the woman agreed to sex or was too incapacitated to do so.
At trial, the woman said she saw Rose occasionally for a little over two years and that he would often pressure her to be more sexually adventurous. Everything changed, she said, on Aug. 26, 2013, when she arrived at Rose's rented Beverly Hills house with a girlfriend for a party and was intentionally drugged. She said she took a cab home but needed the cabdriver to walk her to her front door.
Once home, she remembered throwing up and passing out in her room with her
clothes on.
She testified she came to for a "few second flashes" in the early morning, but distinctly remembered Rose having sex with her in her room and then Hampton and Allen having sex with her simultaneously while Rose watched. She said she woke up the next morning sore, her body covered in lubricant and there were used condoms strewn across her bed and room.
But Rose, Hampton and Allen told the jury a much different account. They said the woman willingly had sex with all of them. Hampton testified the woman gave him a lap dance at Rose's house and then they had "missionary sex" in a pool lounge as the woman simultaneously gave Rose oral sex. Allen testified he also had consensual sex with the woman in a room at Rose's house while they waited for her cab to arrive.
The men testified they went to the woman's house after the party in the early morning hours the following day at her urging. The woman greeted them at the door and let them in, they said. Once inside, they each said they took turns having consensual sex with the woman in her room. As evidence, Rose's defense team presented text messages sent by the woman asking the Knick's player to come over to her house after the party, asking why he didn't sleep with her friend at the party and asking for cash the next morning for her friend.
Rose's lawyer Mark Baute said the text messages showed "this was an evening for sex."
The woman's legal team pointed out that during Rose's deposition, the Knick's player didn't appear to even understand the meaning of the word "consent "responding "No, but can you tell me?" But when he testified at trial he appeared to have a much better grasp of the word that is central to the $21 million civil case,
according to the AP.
Rose is expected to start in Tuesday's season opener game in Cleveland.