Motörhead Frontman Lemmy Kilmister Dies From "Aggressive Cancer"
The heavy metal band's longtime lead vocalist, bassist, and songwriter died at home after a short battle with cancer.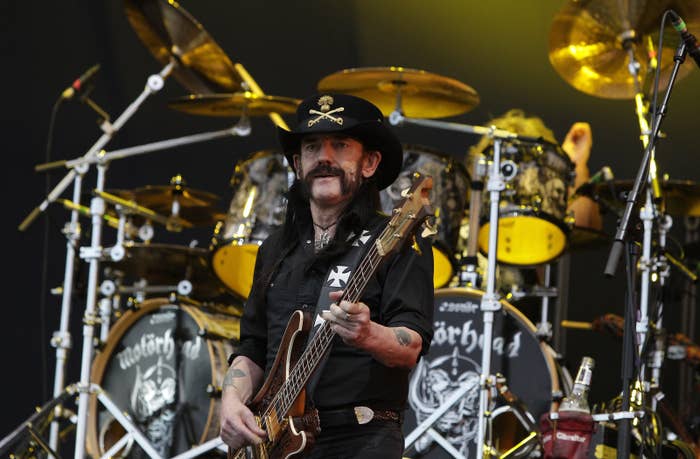 Motörhead's Ian Fraser "Lemmy" Kilmister died on Sunday after a short battle with an "aggressive" form of cancer, his band confirmed Monday. Lemmy turned 70 on Dec. 24.

At the time of his death, Lemmy was home sitting in front of his favorite arcade video game from the Rainbow Bar and Grill, which he lives two blocks away from, and was surrounded by his family, his band said in a Facebook post.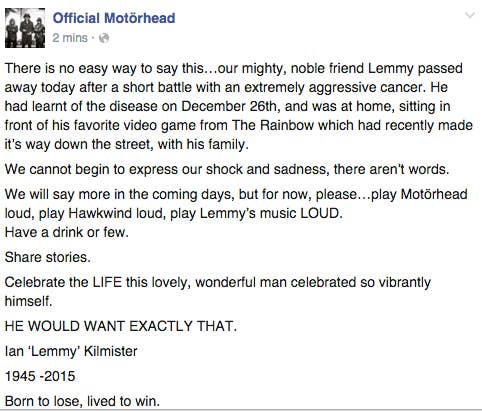 The band had just finished part of a European tour and was preparing to head back on the road on Jan. 23. Motörhead's drummer, Phil Taylor, died in November at the age of 61.
Tributes to Lemmy began pouring in immediately from friends and fans across the world as news of his death broke Monday evening.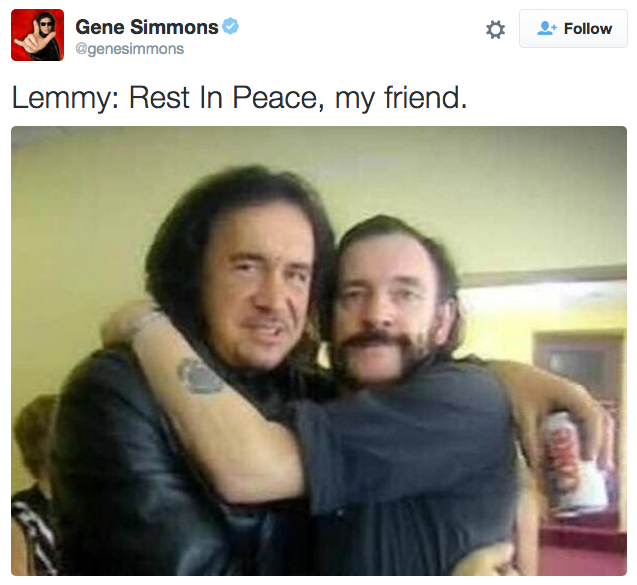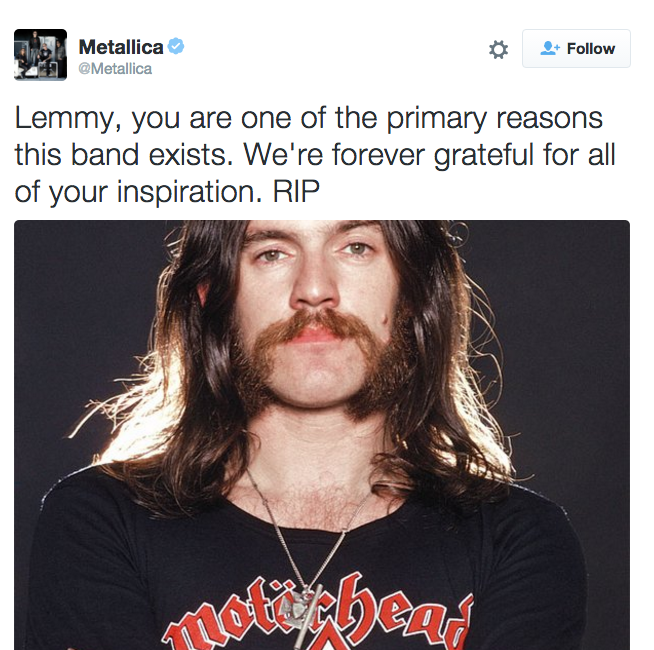 Before Motörhead, Lemmy was a member of the band Hawkwind but was fired after being arrested of suspicion of cocaine possession at the Canadian border and spending five days in jail, according to the band's website.
After being fired, he decided to form his own band: Motörhead. The band were perhaps best known for their 1980 song "Ace of Spades", which spent 12 weeks in the United Kingdom singles chart and made the top 10 of VH1's Top 100 Hard Rock Songs.
Lemmy is also famously known for writing the hits "R.A.M.O.N.E.S." for the Ramones and "Mama I'm Coming Home" for Ozzy Osbourne. Lemmy said he made more money writing that song and three others for Osbourne than he did in 15 years with Motörhead.

In 2010, Lemmy told the Independent: "If I do die sooner rather than later, I'll be satisfied with what I've done. I've had a good life, I've been around the world, met all kinds of people. I've made people laugh, I've fucked chicks of every colour, shape, religion and persuasion. I've had a whale of a time out of rock'n'roll, and rock'n'roll has had a whale of a time out of me. That'll do."
Three years later, he suffered a heart ailment and afterward told Rolling Stone he decided it was time to stop his hard-partying habits and began exercising and cut down on cigarettes and drinking. Before going on the 2015 Slayer–Anthrax tour, he denied any reports that his health would impede his touring ability. He told the magazine, "I'm all right, you know," he said. "I'm not dying yet."