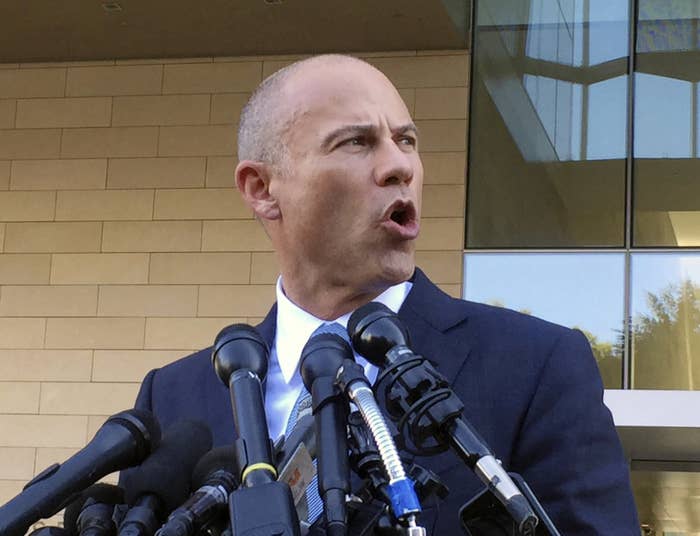 LOS ANGELES — Michael Avenatti, the attorney representing porn star Stormy Daniels in her legal pursuit of President Trump, has been arrested on suspicion of domestic violence in Los Angeles, police confirmed.
A report on the alleged incident was taken on Tuesday, and as of Wednesday afternoon, Avenatti was booked on a felony domestic violence charge, LAPD Officer Jeff Lee told BuzzFeed News. Officials declined to elaborate on the allegations, except to say the alleged incident occurred at a residence in the 10000 block of Santa Monica Boulevard near Beverly Hills. Security personnel at the main luxury apartment building on that block, the Ten Thousand, declined to comment.
Avenatti, who was released on $50,000 bail, denied any allegation of abuse or violence, first in a statement through his law office, and again outside after his release.
"I wish to thank the hard working men and woman of the LAPD for their professionalism they were only doing their jobs in light of the completely bogus allegations against me," he said in the statement. "I have never been physically abusive in my life nor was I last night. Any accusations to the contrary are fabricated and meant to do harm to my reputation. I look forward to being fully exonerated."
Speaking to reporters outside an LAPD station, he reiterated that he looked forward to a full investigation.
"I have never struck a woman. I never will strike a woman," he said. "I am not going to be intimidated from stopping what I am doing."
News of his arrest was first reported by TMZ, which had initially reported that his estranged wife was involved. In a statement to BuzzFeed News, though, attorneys for Lisa Storie-Avenatti refuted that report.
"My client and I have reviewed the TMZ article alleging that my client, Lisa Storie-Avenatti, has been injured and that Michael Avenatti has been arrested as a result of some incident that occurred between them. This article is not true as it pertains to my client," the statement said. "Ms. Storie-Avenatti was not subject to any such incident on Tuesday night. Further, she was not at Mr. Avenatti's apartment on the date that this alleged incident occurred. My client states that there has never been domestic violence in her relationship with Michael and that she has never known Michael to be physically violent toward anyone."
Storie-Avenatti, 49, filed for divorce on Nov. 27, 2017, according to court records.
Avenatti's ex-wife, Christine Avenatti-Carlin, also released a statement through attorneys, saying they've known each other for 26 years, and during that time, "he has never been abusive to me or anyone else. He is a very good man."
Avenatti rose to prominence after taking up the case of Stephanie Clifford — better known by her professional name, Stormy Daniels — who received $130,000 as part of a 2016 settlement that barred her from discussing her alleged relationship with Trump. However, details of that arrangement leaked out via friends and old interviews and Daniels filed suit to be released from the agreement. The payment came from Trump's longtime personal attorney, Michael Cohen, who has said that he used his own money and that Trump did not know about the payment.
Cohen has since pleaded guilty to arranging to payments to two women in order to keep stories of their alleged affairs with Trump from becoming public before the 2016 election.
Avenatti also represented Julie Swetnick, who accused Supreme Court Justice Brett Kavanaugh of sexual misconduct. However, when she walked back some of those allegations, Avenatti was blamed by some Democrats for adding momentum to Kavanaugh's confirmation in the Senate.

Meanwhile, Avenatti has parlayed his stage on cable news networks on behalf of his clients into other areas of influence. A self-described potential contender in the 2020 election, he launched his own federal PAC to support Democratic candidates earlier this year. Fight PAC, he said at the time, would serve to support Democratic candidates with "the size and the presence to really fight back and advocate from a position of strength as opposed to weakness."
Avenatti has more recently been talking up a potential presidential campaign in 2020. He's not new to politics — he started out as an opposition researcher for Democratic campaigns in the 1990s. He's also visited the early-voting states Iowa and New Hampshire over the last several weeks, working to build support among local Democrats.
"I honestly have not made a decision," he told BuzzFeed News last week, ahead of the midterm elections. "It's a big decision. I did not plan my life around this. There's a bunch of things that, had I planned my life around this, that I did, that I would not have done. And there's a bunch of things that I should have done that I didn't do.
"I've lived a colorful normal life. You know, when I got out of politics in 1997, I didn't think I was coming back. And I lived accordingly."
Avenatti's political spokesperson declined to comment on the arrest Wednesday. But reaction to the arrest quickly had political ramifications, with Vermont Democrats canceling several events with Avenatti scheduled for the weekend.
R. Christopher Di Mezzo, communications director for the Vermont Democratic Party, told the Burlington Free Press that the party "wasn't going to step in that arena" while there was "some kind of arrest and investigation" taking place.
Avenatti's court date in the case was scheduled for Dec. 5.