Meet Turks.
She's a 5-year-old fox red Labrador retriever on assignment at the Montgomery County Courthouse in Pennsylvania. Turks is specially trained and certified to appear in courtrooms, where she often snuggles next to victims, especially children, to help them get through the trauma of testifying. These past two weeks she has had an additional assignment: Keep the jury that has been sequestered in the Bill Cosby trial in good spirits as they spend time away from their families.
Here's Turks and her handler Kiersten McDonald.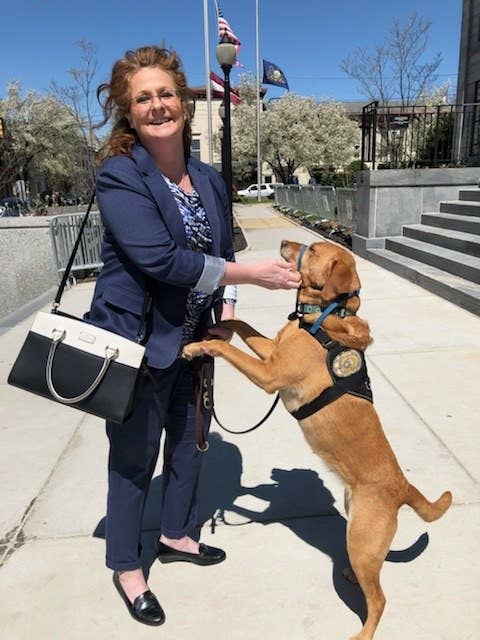 McDonald, an investigator at the Montgomery County Detective Bureau, said she was thrilled when more than four years ago her boss asked her if she wanted to have a dog partner. Turks isn't just her office mate but part of her family and goes home with her every night. McDonald said Turks is a bit of a local celebrity, so she wasn't surprised when the jury tasked with deciding Cosby's fate specifically requested Turks.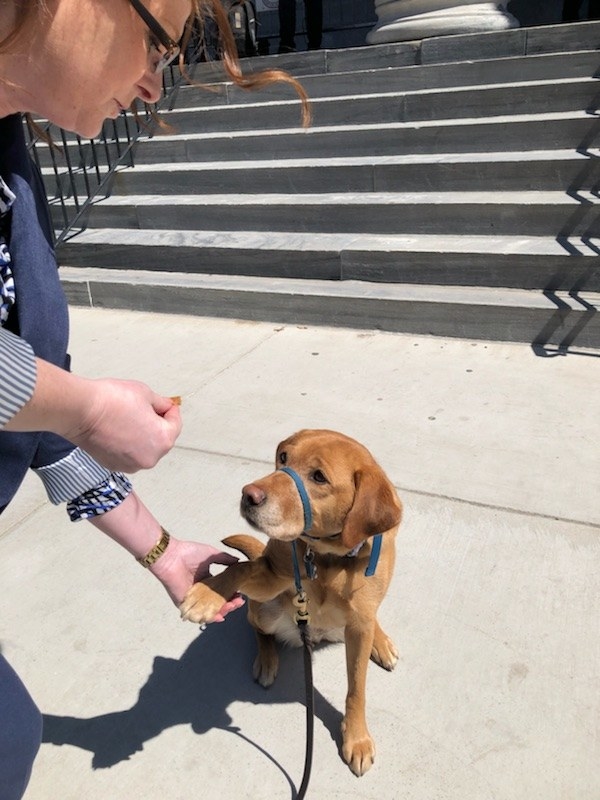 Turks is more than happy to show off her tricks for treats. But when meeting with the jury, she takes off her district attorney vest so they know she isn't there to impress anyone but instead is providing impartial moral support. Before Turks was approved for her daily visits with the jury, she had to get the OK from the judge and meet with one of Cosby's defense attorneys, Kathleen Bliss. Now her daily visits, usually around lunchtime, are a welcome break for many of the jurors facing long days of testimony.
Even witnesses testifying in the Cosby case get some comfort time with Turks.
At home, Turks takes off her vest and runs and plays with her sister Senga, a 2-year-old black Lab, and her brother Trooper, a 2-year-old Siberian husky. But at the courthouse, she is devoted to the business of comfort.
"Turks loves her assignment," said McDonald. "I promise you she is the most spoiled dog that you will ever meet. It usually takes around 2 and a half hours every morning to get to my desk because I get stopped so many times. Everybody loves her."