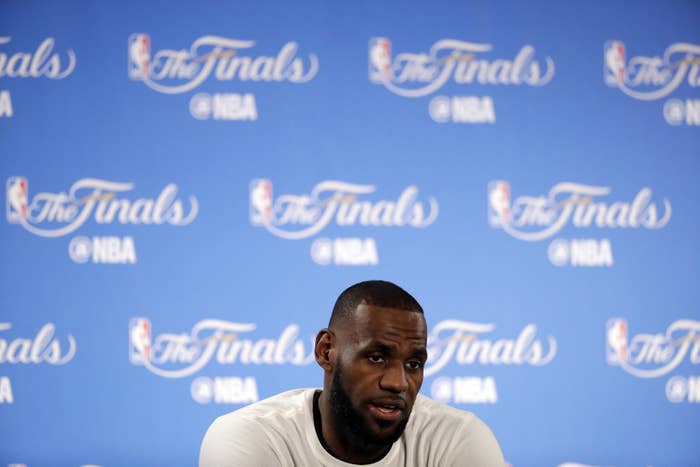 NBA star LeBron James on Wednesday addressed a racial slur that was found hours earlier tagged on the front gate of his Los Angeles home, telling reporters that "being black in America is tough" no matter how famous you are.
Los Angeles police told BuzzFeed News an investigation remains ongoing after the department received a call early Wednesday regarding vandalism at James' Brentwood house. When officers responded at 6:45 a.m., the slur had already been painted over, LAPD spokeswoman Irma Mota said.
Police did not disclose what the slur was, but a source told the Los Angeles Times it was the n-word.
Speaking at a news conference in the Bay Area, where his team, the Cleveland Cavaliers, will play the Golden State Warriors in the first game of the NBA Finals, James said he was saddened that on the eve of one of the greatest sporting events, he was sitting in front of the cameras discussing racial issues.

"No matter how much money you have, no matter how famous you are, no matter how many people admire you, being black in America is tough," James said. "We got a long way to go for us as a society, and for us as African-Americans, until we feel equal in America."

Still, he added, if the vandalism incident keeps the conversation about racial problems going, he was at least "OK with that."

"It just goes to show that racism will always be part of the world, part of America," James said. "Hate in America, especially for African-Americans, is living every day, even though it is concealed most of the time.
"We know people hide their faces and will say things about you, and when they see you, they will smile in your face. It's alive every single day."