A 19-year-old Kansas man was sentenced to 84 days in jail after pleading no contest Monday to stalking singer Lana del Rey.
Zachary Benton Self of Overland Park, Kansas, was also sentenced to five years of probation and is now the subject of a 10-year protective order banning him from making any contact with the singer.
Self has been in custody since his arrest on Dec. 1 in lieu of $200,000 bail after construction workers spotted him at the Summertime Sadness singer's Malibu home.
Self stalked del Rey on social media beginning Nov. 2 until his arrest on Dec. 1, according to the Los Angeles County district attorney's office. Self broadcast his devotion to Del Rey on Twitter, Facebook, and Snapchat. Then, without telling anyone, left Kansas in November on a pilgrimage to Del Rey's house in Malibu.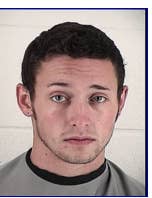 Austin Valenca, one of Self's close friends, told BuzzFeed News he had a ringside seat to his friend's unraveling. Valenca said Self was a talented photographer and budding filmmaker, but that one day everything changed and he started rambling about how he had been touched by God and suddenly knew how the universe worked.
"He said he could control fire and make people do things against their will," Valenca said.
It's also when Self started talking incessantly about Del Rey, saying she was leaving him subtle messages in her music and on social media.
He changed his "about" section on Facebook to say, "#Engaged to Heaven on Earth #with @LanaDelRey." He meticulously analyzed her social media and would tell Valenca how the singer's messages were directed at him because of their spiritual connection.
On Nov. 28, Self posted a message to Facebook with a map of the border between Nevada and California: "So close." The next day, he posted a photo of the book The Satanic Witch from inside in Del Rey's garage with the caption "Thanks for leaving me a good read at the crib that's my witch."
On Nov. 30, construction workers reporting seeing Self at Del Rey's Malibu house, which was undergoing renovations, but by the time police arrived, he had run off. However, in his rush to escape, authorities say Self left his computer and all the notes about his devotion to Del Rey.
The next day, sheriff's deputies arrested Self at a nearby Starbucks, and he was charged with two felonies: Stalking and first-degree burglary.