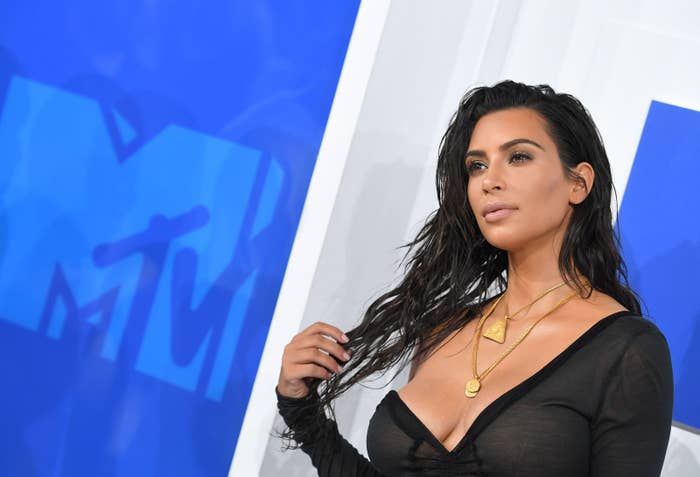 Social media has now been devoid of Kim Kardashian West for a month, and with each passing day, experts say the stakes are getting higher for someone who has built her empire on the very platforms she has abandoned since she was robbed in Paris.
The longer the shaken reality television star goes radio silent, the less of an imprint she has, which can start negatively affecting her social media–based ventures that generate millions of dollars.
Kardashian West's video game, daily lifestyle app, and partnerships with advertisers are all predicated on a steady stream of content, a full-time enterprise that she has attributed wholly to social media.
That brand generated 156 tweets, 80 Facebook posts, 47 Instagrams, and countless Snapchats in September alone. But that level of access isn't without sacrifice.
"There are pitfalls, lack of privacy, loss of privacy, and that's not for everyone," Kardashian West told 60 Minutes. "For me, I can handle it."
While her representative did not respond to requests for comment, the unprecedented month-long silence indicates Kardashian West is likely re-evaluating just how she handles it.
Since the Oct. 3 robbery, in which she was tied up at gunpoint as the culprits made off with $10 million in jewelry and other items, she has stayed off all channels. On Tuesday, what appeared to be three scheduled posts, one promoting a cell phone case, went up but were quickly taken down.
Mike Heller, chief executive officer of Talent Resources, said that while consumers are trained to wait, whether for the next season of their favorite TV series or an upcoming movie, they have their limits.
Without new content being added to her $2.99 monthly Kim Kardashian West official app, gross revenue has dropped significantly, pushing it 508 spots down the Apple store chart to the 1,062th position of the top-grossing apps overall, according to figures provided by APPLyzer.com.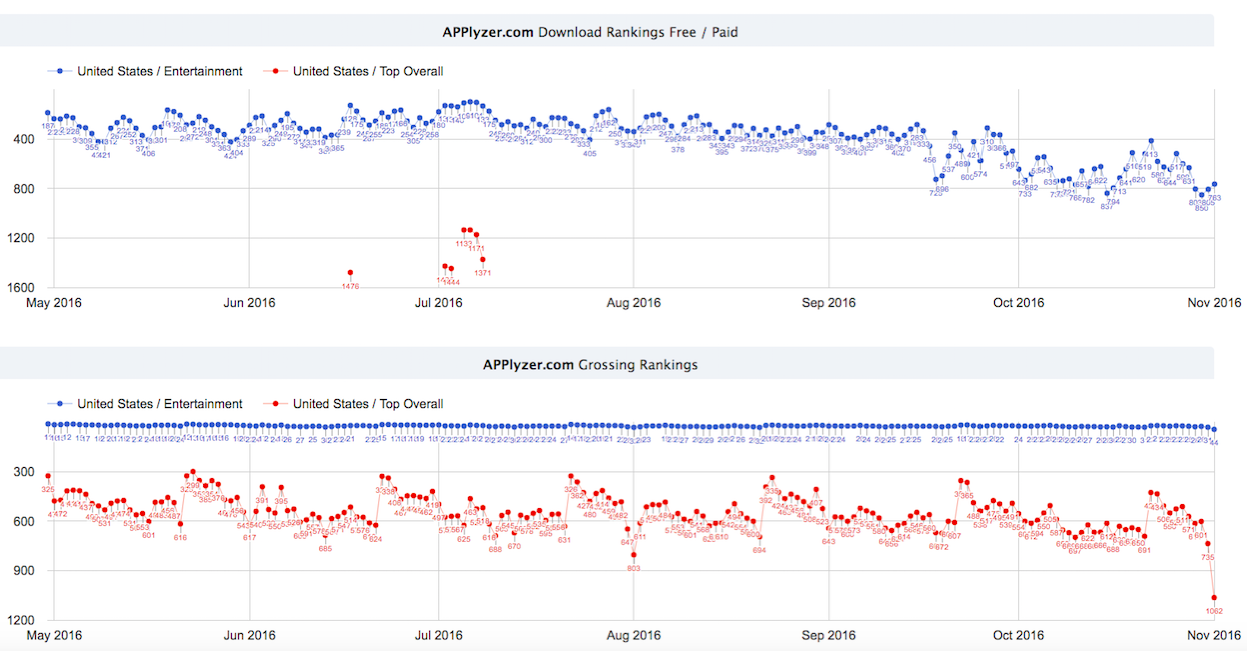 "If she continued to not post, it would affect her, but I'm sure they are coming up with a strategy to bring her back onto social media," Heller said.
Raising the stakes for that return is the fact that she has passed the one-month mark. One post by Kardashian West is still estimated to be valued between $250,000 and $500,000. But brands are reluctant to partner with someone who doesn't have at least a month's worth of analytics to go off of, even if they are one of the most famous people in the world, experts say.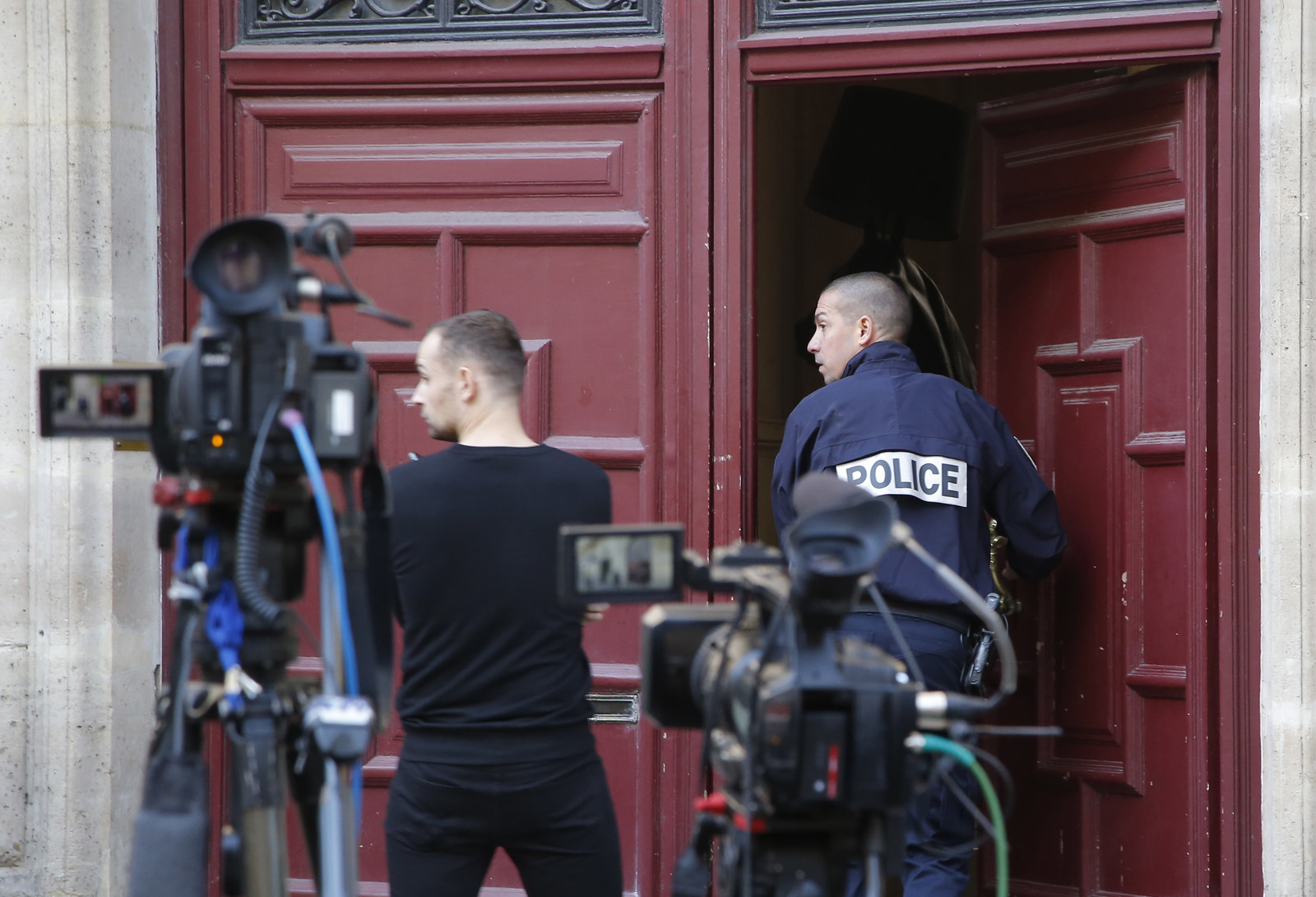 "I definitely think everybody gave her a break from being able to not post on social media," Frank Spadafora, CEO and founder of D'Marie, told BuzzFeed News. "But when you start to go longer than 30 days without posting, it's hard to get a true analytical read or analysis of a portfolio, and can be slightly off-putting for a brand."
Given that Kardashian West's sisters also maintain strong online footprints, companies could instead decide to play a safer data-driven bet with them, he added.
But don't count the social media maven out just yet. Despite her lack of content, Kardashian West is still gaining an average of 84,894 followers every day across Facebook, Twitter, and Instagram, said Spadafora. She is also holding the No. 4 spot for most influential person in D'Marie Analytics' "public figure/celebrity" list.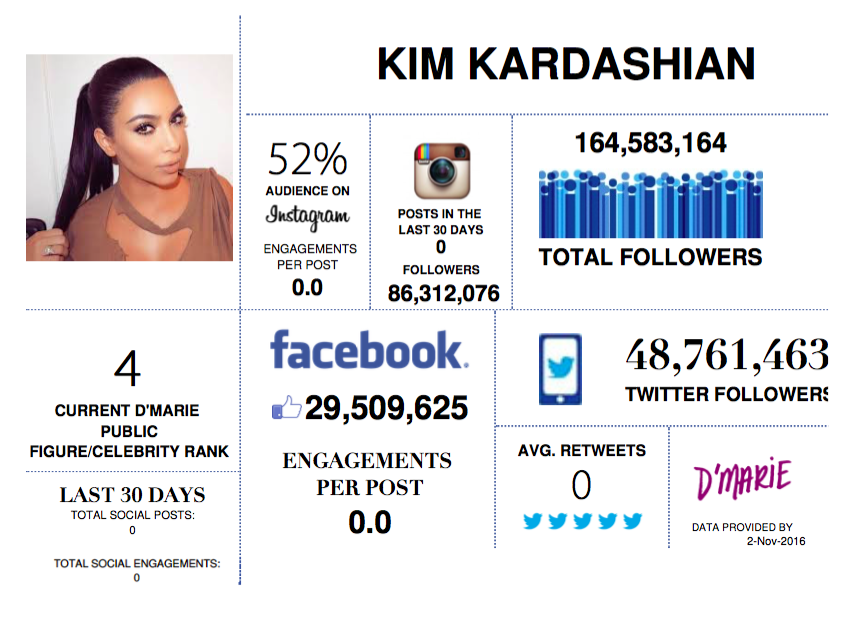 "I think the robbery has spiked people's interest in her," particularly on her Facebook the day after it was announced, he said. "The machine is still working, even if she isn't producing new content, which is interesting."
While she is expected to return in some fashion to the platforms that drove her fame and fortune, Spadafora cautioned fans not to expect the same profile.
Kardashian West's up close and intimate style of granting access to her glamorous life is what made her so endearing to fans and attractive to advertisers. But that all access type of posting is what Paris police have blamed for making her a target to criminals, and she'll likely scale back.
"I do think Kim is going to come back with a different brand," Spadafora said. "Definitely not the type of hyper-tagged, specific content featuring what she wears, and where she has been. I think we are going to see a difference in the content she posts."