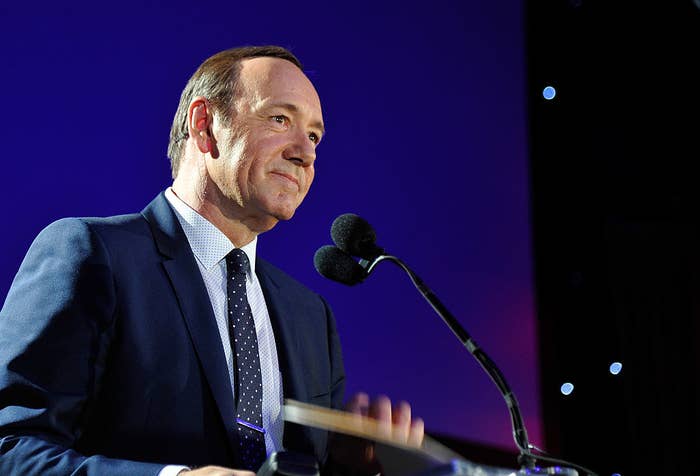 Kevin Spacey has been sued by a man who alleges the actor groped him and then tried to force him into oral sex during a private massage session in Malibu in 2016.
Authorities are already investigating a sexual assault report involving Spacey in Malibu that same year, but have not elaborated on what allegedly happened. The case, which was reported to the Los Angeles County Sheriff's Department on May 22, was turned over to the district attorney's office and remains under review.
In the lawsuit filed Thursday, the massage therapist — identified only as John Doe — alleges sexual battery, assault, false imprisonment, and intentional infliction of emotional distress.
The man alleges that in October 2016, he was called to the actor's home, where he was directed to an upstairs room to set up for a massage. Spacey returned to the room wearing a robe and allegedly closed and locked the door behind him.
When the man asked Spacey if he had any problem areas, the actor complained of "discomfort in his groin area," according to the lawsuit. The man said he then asked Spacey to lay face down on the table, but that instead the actor laid face up. During the massage, Spacey allegedly pulled the man's hand onto his testicles. That's when the massage therapist jumped back, telling the actor, "This is ridiculous. I am a professional. This is what I do for a living. I have a son," the complaint states.
Spacey then stood up from the massage table naked and moved toward the man, telling him "you have such beautiful eyes," the lawsuit states. The man alleges Spacey tried to kiss him, and when he backed away, the actor grabbed his genitals and said, "Just let me give you a blow job."
As he tried to leave the room after gathering his stuff, the man alleges Spacey continued to grope him and at one point blocked the door.
The man said he reported the alleged assault to police, however, the district attorney's office on Friday said it could not comment on details of any ongoing investigation.
A spokesperson for Spacey did not immediately respond to a request for comment.
In the lawsuit, first reported by the Blast, the massage therapist is seeking unspecified damages.
Since an October 2017 BuzzFeed News story in which actor Anthony Rapp claimed Spacey made a sexual advance toward him in 1986 when he was 14, many others from the actor's long career in both theater and film have also come forward with their own stories of allegedly being abused, harassed, or assaulted.
Earlier this year, prosecutors declined to file charges against Spacey in another sexual assault case involving a man, which allegedly took place in October 1992 in West Hollywood, because it was outside the statute of limitations.