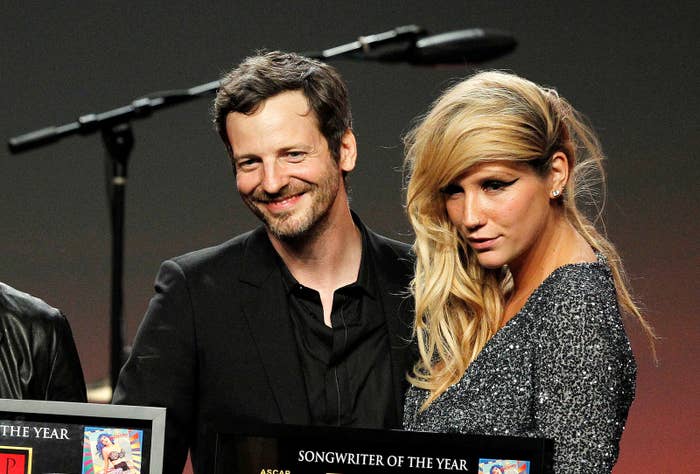 Kesha was described as being out of control, irrational, and abusive by her own management team, according to a new round of emails filed in court Tuesday.
The documents detailing emails between Kesha's management staff were the latest salvo in the ongoing legal battle between her and music producer Dr. Luke, who has accused the singer of defamation and breach of contract.
Emails submitted by Kesha's attorneys last week revealed how Dr. Luke — aka Lukasz Gottwald — berated the "Tik Tok" singer about her weight, citing it as a reason top songwriters and producers didn't want to work with her.
But in the new court papers filed Tuesday, Dr. Luke's legal team sought to paint Kesha as the abusive one, and asked a New York judge to deny her request to add new abuse claims, calling them "baseless arguments in a transparent and unavailing attempt" to get out of her exclusive recording contract.
"Kesha's effort to paint [Dr. Luke] as 'abusive' is a damaging fiction that conceals what is really going on," attorney Jeffry Movit wrote in the new court documents.
The emails show a temperamental side of Kesha that had her own inner circle describing her as hard to work with, "a wild child," "mental," and "nuts." In one email from road manager Emily Burton titled "Today so far - help!" sent on May 31, 2010, while in Japan, she described getting screamed at.
"She came downstairs (45 minutes late) and pulled me out of the van to scream at me while sobbing saying 'there is a time and place and it isn't 7:30 in the morning!" Burton wrote. "I need y'all to help me here. At least talk to her. I know she is crazy but she is also abusive and ignorant of my role…She can be such a kid but a kid off her rocker is the worst kind of kid." Burton signed the mail, "Help. How can I get out of here sooner than was planned?"
In another email from Burton titled "Heads rolling," her road manager described immediate staff changes Kesha wanted made to her band, writing, "K$ now in a really cut throat mood."
Jack Rovner, co-president of Vector Management, responded: "she really sounds like someone who is doing drugs. so erratic. a couple of hours all is going well now she wants to dump the whole lot. this doesn't feel right even with kesha standards,"
Another member of Kesha's management team responds: "she is is nuts."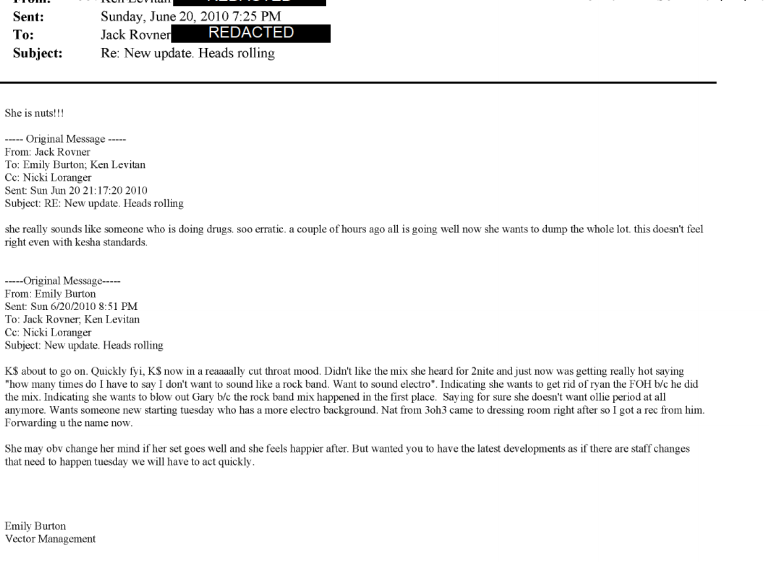 Kesha's manager, Nicki Loranger, later wrote to Rovner about needing "to have a larger conversation with you about Kesha" and how the singer "abuses the shit out of [Tessa, Kesha's personal assistant], but it is totally not working."
"She can't control Kesha at all, everyone in the crew and band are calling me complaining, Kesha's basically just gone rogue," Loranger wrote.


Rovner said "it was worth putting up with her complete insanity when she was a big money earner," but added, "it's def not now."

Dr. Luke's attorneys also included emails in their latest filing to demonstrate it was the singer's own management that was concerned with her weight gain after some unflattering bathing suit pictures of Kesha surfaced.
Kesha's legal team released emails Feb. 14 showing Dr. Luke disapproved of the singer having a Diet Coke and slices of turkey while on a juice fast.

But Kesha's management team also discussed in emails about the singer going back to rehab for a "tune up." Dr. Luke also included an email the producer sent to Kesha on Jan. 29, 2010.
"I know you said you looked like a lesbo but i disagree - you looked radiant and beautiful," he wrote. "You're doing exactly what you're meant to be doing right now. You're actualizing your dreams. I'm proud of you and love you very much! xo L."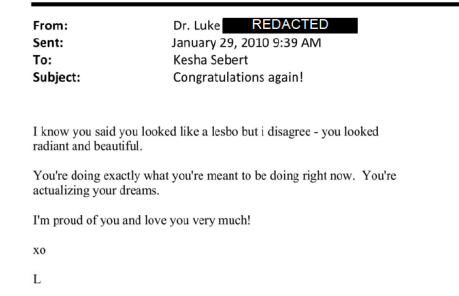 Dr. Luke and Kesha have been locked in a legal battle since October 2014, when they filed dueling lawsuits against each other. Kesha sued him in California for sexual assault and battery, sexual harassment, gender violence, unfair business practices, and infliction of emotional distress.
Dr. Luke filed his own lawsuit against Kesha in New York for breach of contract and defamation. Kesha later dropped her case to concentrate on defending herself against the New York lawsuit and on restarting her music career.