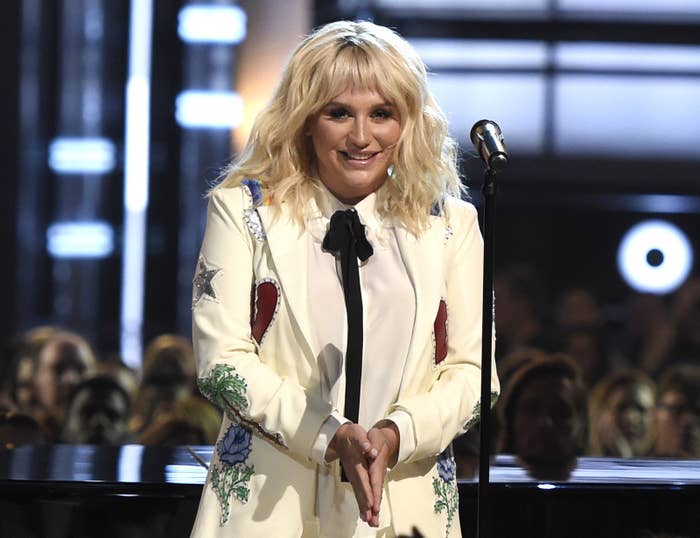 Kesha is trying to stop Dr. Luke from releasing information from a decade's worth of her personal medical records, according to court papers filed Monday.
The singer had handed over 913 pages of gynecological, psychiatric, and rehabilitation medical records that go back 10 years but Dr. Luke's legal team is refusing to agree to keep them confidential. Now, she is asking a New York judge to issue a protective order to seal the sensitive records from ever being released to the public.

The "Tik ToK" singer has been locked in an epic court battle with music producer Dr. Luke for the past two years that shows no sign of coming to any kind of amicable resolution.
In August, Kesha dropped her California sexual assault case against Dr. Luke to focus on his lawsuit against her in New York and to also concentrate on releasing new music.
Kesha, who hasn't released a new album in nearly four years, gave 28 new songs to Dr. Luke's record label at that time in an effort to restart her career. But even with the California action dismissed, Kesha is still battling it out with Dr. Luke (born Lukasz Gottwald) over his breach of contract case against her in New York.
According to the most recent filing, Kesha had asked Dr. Luke to agree to a standard protective order to safeguard her "private and sensitive information from public and media scrutiny." But "Gottwald rejected it," claiming the right to use her medical records, including with the public and media, "without condition," the court documents state.
After negotiations regarding the treatment of the records fell through, Kesha's attorneys turned to Judge Shirley Kornreich to intervene and grant a request for a protective order.
Dr. Luke's attorneys maintains that Kesha waived any privacy rights she might have had over her private medical information by "publicly disclosing details of her alleged medical diagnoses and treatments and putting them at issue in this case, all in an effort to bolster her baseless claims against our clients," according to court documents. Dr. Luke's attorney Christine Lepara released this statement that they say clarifies their position:
"Because Kesha made public accusations and in the case that she was allegedly harmed by Dr. Luke, the Court ordered her to producer her medical records. Now, Kesha wants to hide her records, while continuing to make self-serving, selective and misleading statements to hurt my clients publicly. Our position is that the Court--and not Kesha's lawyers-- should decide whether Kesha's medical information remains confidential given her public disclosures. We in fact offered to keep the records confidential pending the Court's decision as to them. Kesha's attorneys refused that offer, and instead filed their misleading motion for more press attacks on my clients.""
Kesha's attorneys, though, argue Dr. Luke just wants to use the records for "no reason other than to embarrass" her. This, they say, is just another example of Dr. Luke's "scorched earth litigation tactics" that also include having her hire 25 contract attorneys to review irrelevant documents.

"Gottwald, who is purported to be worth an excess of $100 million, has made clear his intent to make the litigation as expensive as possible for the single defendant Ms. Sebert who is currently unable to publish music without Gottwald's involvement," the court papers filed by Kesha, whose last name is Sebert, state. "Gottwald's strategy in the litigation has been to subject Ms. Sebert to extreme embarrassment and harassment going as far as to raise questions in depositions regarding whether Ms. Sebert is 'sexually aggressive.'"
A hearing is scheduled for Oct. 26 on this motion for a protective order.