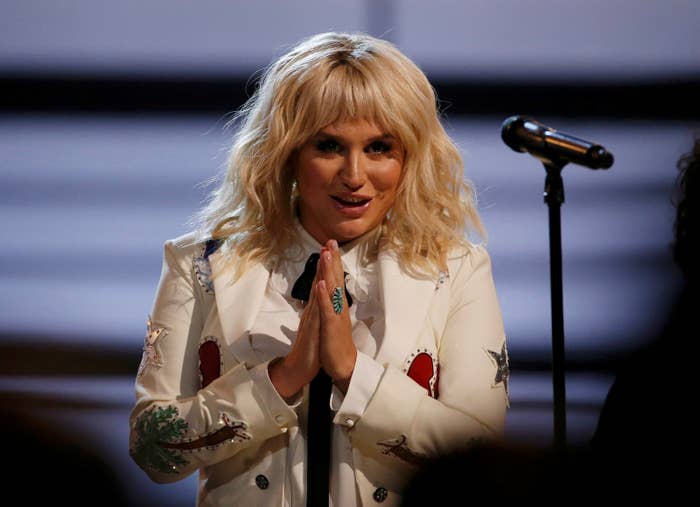 Kesha opened up about her ongoing legal battle with producer Dr. Luke, calling it "fucking horrible" to a crowd gathered to hear her sing at a Democratic National Convention event.
Kesha was center stage at former Congresswoman Gabby Giffords' Americans for Responsible Solutions PAC gun violence event Tuesday in Philadelphia when she took a moment to address the rollercoaster of emotions that people often go through.
"I've been thinking about it because if you are a human being, you go through pain and you go through hurt. Every single one of us knows that emotion," she said.
She then went on to remind the crowd of her legal woes.
"I don't know if you guys know what I am going through. I'm going through a lawsuit," Kesha said as the crowd broke out in cheers. "It's fucking horrible."
Kesha has been locked in a battle with record producer Dr. Luke since 2014, when she filed a lawsuit seeking to get out of her exclusive multi-album deal and accusing him of drugging and raping her. Dr. Luke then filed his own lawsuit, claiming breach of contract and accusing the singer of fabricating the sex assault claims to get out of her contract.
Due to the protracted litigation, Kesha's recording career has been effectively been put on hold — she has not recorded an album since "Warrior" in 2012.
In addition to her own battles, Kesha has been an outspoken advocate against gun violence. She has also posted often about her sadness over the mass shooting in Orlando.
After touching on her legal troubles, Kesha addressed those gun control issues.
"We as a nation we can't control who feels hurt. We can't control who feels pain, and we can't control what you do with the hurt and the pain and the anger," she said. "You can't control every single person and know how they are going to deal with things. Know if they are going to pick up a weapon. You don't know that. But we can control is who we give the fucking weapons too."