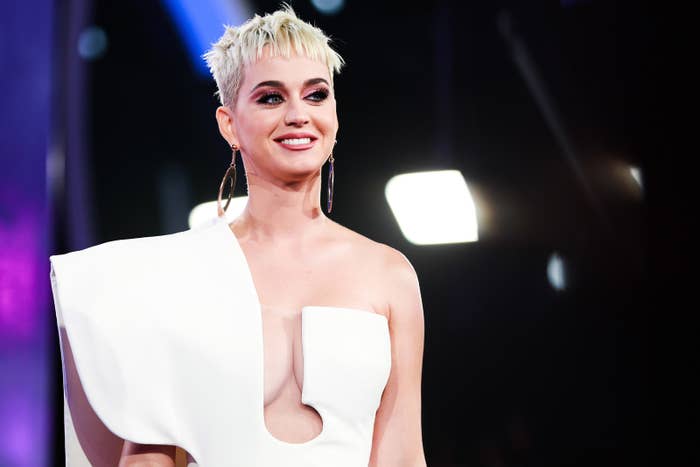 Katy Perry testified that Dr. Luke never raped her, despite Kesha's text message to Lady Gaga claiming otherwise, according to court records that were unsealed Monday.
Perry's testimony was taken in July in response to a defamation lawsuit filed against Kesha by her former producer, Dr. Luke, aka Lukasz Gottwald, in response to her allegations that he sexually assaulted and mentally abused her.
The text to Lady Gaga was sent on Feb. 26, 2016, after a judge denied Kesha's request to get out of her contract with Dr. Luke and his record label. The text did not specifically name Dr. Luke, but it implied that Perry had been "raped by the same man" who allegedly raped her.
But under oath for a deposition, Perry unequivocally said that she had never been sexually assaulted by Dr. Luke or told anyone anything to the contrary. She also said she never had any kind of sexual or romantic relationship with him.
Kesha's legal battle with Dr. Luke has now been going on for four years after she sued him in 2014 for alleged sexual assault. He, in turn, countersued for breach of contract. He is currently suing for $50 million, citing loss of work with other artists in the wake of her accusations and an alleged campaign to smear his reputation.

The court also unsealed Lady Gaga's deposition in which she testified that the chair and CEO of Interscope Records, John Janick, told both Kesha and her that he had heard Dr. Luke had raped Perry. "He said something like 'I heard he raped Katy Perry, too,'" she testified.
In his deposition, however, Janick denied ever making those statements.
Kesha's legal team said in a statement Monday that the "Tik Tok" singer never claimed to have any independent knowledge "of any alleged assault of Katy Perry (which Ms. Perry has denied in a later deposition)" and accused Dr. Luke of intentionally publicizing the exchange in court documents he knew would become public.
"Mr. Janick's statement was discussed privately between the two friends and would never have become public, except that Dr. Luke decided to publish it to millions of people in his 2017 complaint against Kesha," the attorneys said. "This defamation claim, based on a private text message which was based on the statement of a third party, is also frivolous."
But Dr. Luke's attorney said in a statement to BuzzFeed News that Kesha created a "false narrative" that became "widely accepted," damaging his reputation.
"Dr. Luke supports any woman or man who seeks to address sexual abuse in the legal system. That is not what happened here," the statement continued. "It is also horrendous to falsely accuse someone of a heinous act. That is what has happened here."