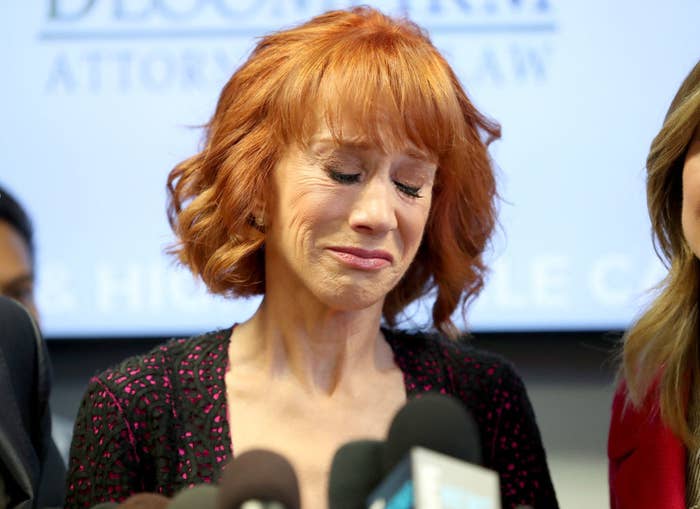 LOS ANGELES — Comedian Kathy Griffin apologized again Friday for a controversial photo shoot of her holding a severed head of President Donald Trump, but said she is being used by the administration as a "shiny object" to distract from bigger scandals.
"We all know what's going on here. They're using me as a shiny object so that nobody's talking about his FBI investigation," she said.
In a lengthy press conference in which she alternated between crying and cracking jokes, Griffin and her attorney Lisa Bloom confirmed she had been contacted by the US Secret Service over the photograph.
"That apology absolutely stands. I feel horrible," she said of her initial apology on Tuesday, hours after the picture was released.
"I make mistakes. I'm an out-there comedian. I'm an in-your-face comedian, but I just wanted to say if you don't stand up you get run over," she continued.
"What's happening to me has never happened, ever, in the history of this great country, which is that a sitting president of the United States and his grown children and the first lady are personally — I feel — trying to ruin my life forever."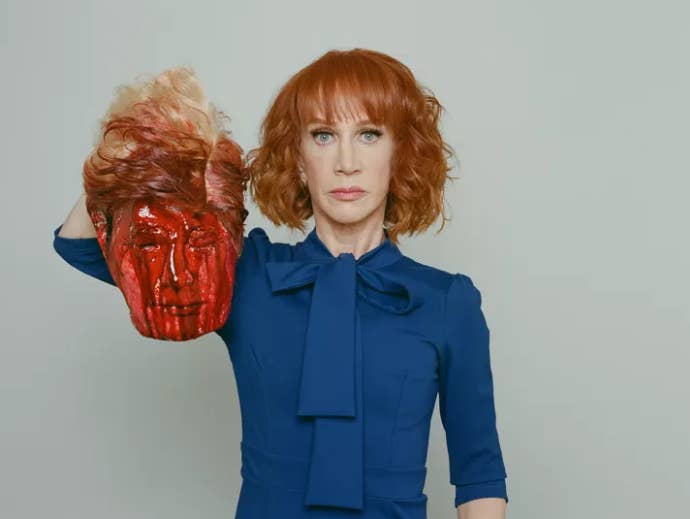 Bloom said that despite Griffin's apology she has received many death threats, had her personal website and social media channels shut down, and been fired from multiple jobs.
"The death threats that I am getting are constant, and they are detailed, and they are serious, and they are specific," Griffin said. "And today it is me and tomorrow it could be you."

After the Secret Service reached out, Griffin also had to hire a criminal attorney.

"It was a parody of Trump's own sexist remarks, taken to an extreme, absurdist visual," Bloom said of the image taken by photographer Tyler Shields. "Like many edgy works of artistic expression, the photo could be subject to different interpretations, and Kathy was fine with that. But Kathy never imagined that it could be misinterpreted as a threat of violence against anyone."
Griffin said the photo was a spur-of-the-moment idea, adding that she sent out an aide to buy a Trump mask which they then stuffed with tissues.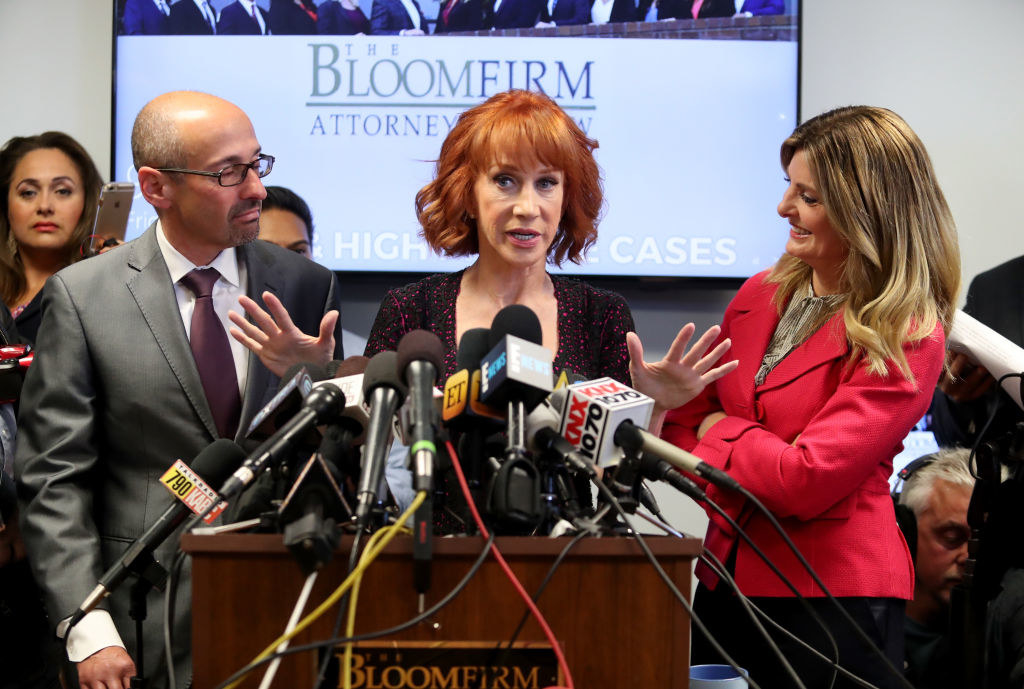 Griffin said she has had five comedy appearances cancelled as a result of the controversy.
Asked about whether she had spoken with her friend Anderson Cooper, the CNN anchor with whom she hosted New Year's Eve shows and who condemned the photo as disgusting, Griffin could only shake her head and cry. CNN cut ties with Griffin on Wednesday.
"My mother, who thinks Fox News is real, is also not speaking to me because she's in love with Tucker Carlson," Griffin joked.

But she vowed to continue trying to bring laughter to fans with her unique brand of comedy.

"I'm not afraid of Donald Trump. He's a bully," she said.
After the press conference, a reporter behind the conservative blog Gateway Pundit made his way to the microphone, brandishing a crude mock up of Griffin holding Bloom's head and asking whether such an image would be appropriate.
David Mack contributed reporting from New York City.