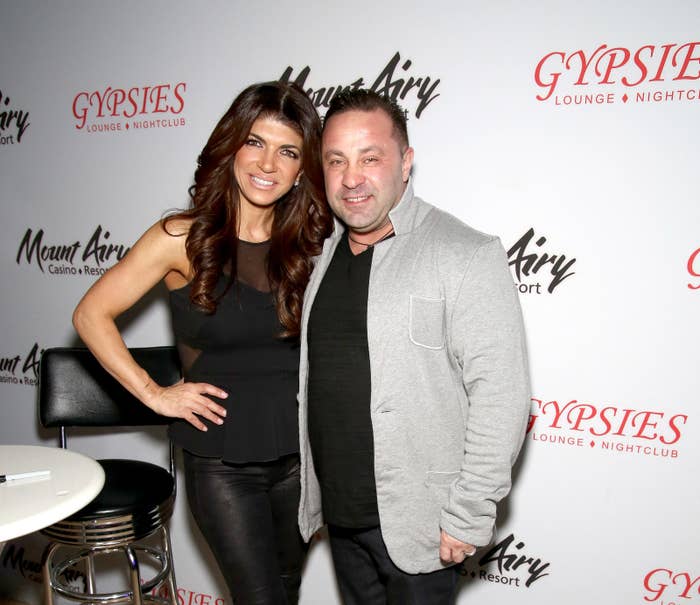 Joe Giudice, the husband of Real Housewives of New Jersey's Teresa Giudice, will be deported back to Italy after completing his 41-month prison sentence for fraud, a Department of Justice official has confirmed.
On Wednesday, Immigration Judge John Ellington ordered Joe Giudice to be removed from the United States, according to the Department of Justice.
Giudice has been in federal prison since March 2016 serving his fraud sentence. He is currently an inmate at the Allenwood low-security federal prison and set to be released March 14, 2019. Because he is not a US citizen, it was always clear that Giudice could face deportation at the end of his prison term. Now, instead of going back to his wife and daughters in New Jersey, he will be taken straight from prison to the airport and flown back to Italy.

Joe Giudice's family attorney, James J. Leonard Jr., said he was declining to comment about the judge's ruling.
In 2014, the Giudices, both 43, pleaded guilty to four counts of fraud — conspiracy to commit mail and wire fraud, bankruptcy fraud by concealment of assets, bankruptcy fraud by false oaths, and bankruptcy fraud by false declarations. Joe Giudice also pleaded guilty to one additional count of failure to file a tax return. Teresa Giudice completed her 11-month sentence for fraud in 2015 at Danbury prison in Connecticut.
The couple had been facing dozens of fraud-related charges and more than 50 years in prison prior to making a deal with prosecutors.
Over the course of the case, as Season 6 of Real Housewives of New Jersey aired, the Giudices went from insisting on their innocence to tearful disgrace at their sentencing.
Teresa Giudice, who appeared on the fifth season of Celebrity Apprentice in 2012, has spoken about asking President Donald Trump to assist with Joe's situation. But in 2016, Teresa's request for Trump to write a character letter to help keep her husband out of jail was reportedly denied.

A source close to The Real Housewives of New Jersey told BuzzFeed News that the show is not currently filming, and that production on its ninth season has wrapped.
Season 9 premieres on Nov. 7, and Giudice, the show's biggest star, would normally begin doing publicity for it soon. All of those plans are currently up in the air.
Bravo, the network that airs the Real Housewives franchise, did not respond to a request for comment.
UPDATE
This story was updated with information about whether the show is currently filming.