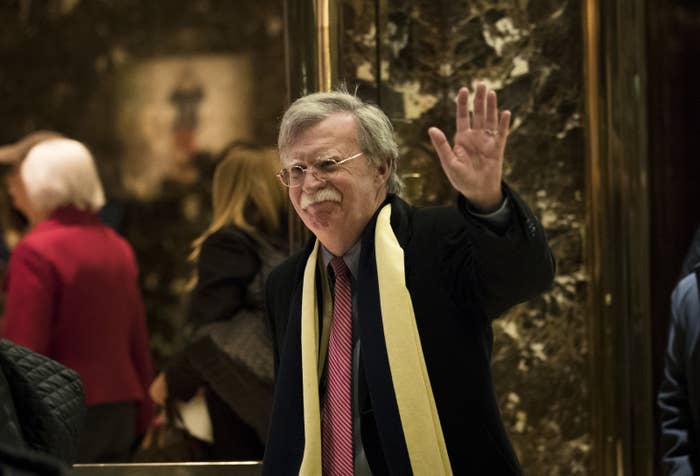 John Bolton, former United States Ambassador to the United Nations, who was photographed Dec. 2 leaving Trump Tower, publicly questioned reports that Russia was behind the hacking attacks during the election.
Bolton, who is possibly being considered for a position in President-elect Donald Trump's cabinet, was referring to a report on Friday that President Obama had ordered a "full review" into hacking activity during the 2016 election, after the president had previously said he was confident that the Russian government sought to interfere with the US election. Obama said he wanted a review into foreign interference finished before he leaves office on Jan. 20.
Citing no evidence, Bolton appeared on Fox News with Eric Shawn on Sunday night and said "it is not at all clear to me just viewing this from the outside, that this hacking into the DNC and the RNC computers was not a false flag operation."
Bolton said it was suspicious that the data led back to Russia, saying they would be too "sophisticated" to leave a paper trail.

"Let's remember what FBI Director James Comey said dealing with Hillary's home-brewed server," Bolton continued. "He said we found no direct evidence of foreign intelligence service penetration, but given the nature of this we didn't expect to, meaning a really sophisticated foreign intelligence service would not leave any cyber fingerprints, and yet people say they did leave fingerprints in the hacks regarding our election. So the question has to be asked, why did the Russians run their smart intelligence service against Hillary's server, but their dumb intelligence service against the election."

But Bolton added if it was found that Russia was behind the cyber attacks "I think if the facts prove out that Russia did try to influence our election, they should face very grave consequences both so that they don't think about it again and nobody else thinks about it again."
He added that we should consider "who else might want to influence the election and why they would leave fingerprints that point to the Russians. That is why I say until we know more about how the intelligence community came to this conclusion, we don't whether it is Russian inspired or a false flag."
Shawn questioned Bolton's remarks, asking who had planted the false flag.
"But when you say false flag, that is a very serious charge, false flag by whom?...are you actually accusing someone here in the administration or in the intelligence community of trying to throw something?"
Bolton responded by saying "We just don't know. But I believe that intelligence has been politicized in the Obama administration to a very significant degree."
"We would want to know who else might want to influence the election and why they would leave fingerprints that point to the Russians," Bolton added. "That is why I say until we know more about how the intelligence community came to this conclusion, we don't whether it is Russian inspired or a false flag."