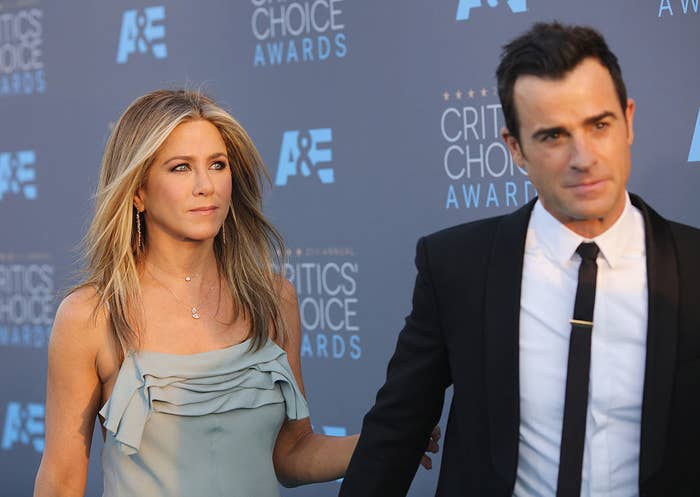 Actors Jennifer Aniston and Justin Theroux are separating after more than two years of marriage.
In a joint statement to BuzzFeed News, the couple gave no reason for the split, but said the mutual decision was "lovingly made" at the end of last year:
In an effort to reduce any further speculation, we have decided to announce our separation. This decision was mutual and lovingly made at the end of last year. We are two best friends who have decided to part ways as a couple, but look forward to continuing our cherished friendship.

Normally we would do this privately, but given that the gossip industry cannot resist an opportunity to speculate and invent, we wanted to convey the truth directly.

Whatever else is printed about us that is not directly from us, is someone else's fictional narrative. Above all, we are determined to maintain the deep respect and love that we have for one another.
The couple married on Aug. 5, 2015, at Aniston's Beverly Hills estate, where guests were told they were attending a party to celebrate Theroux's 44th birthday. This is Aniston's second marriage and Theroux's first. Aniston was previously married to Brad Pitt, whom she divorced after five years of marriage.
Aniston and Theroux reportedly met when they were filming Wanderlust in 2011. The couple later began quietly dating and announced their engagement in August 2012.
Aniston and Theroux recently let Architectural Digest inside their home, describing their idyllic home life. She said Sundays are reserved for cooking and spending time with friends, children, and dogs in the garden by the pool.
"We put out a mean taco bar, and the chili's pretty good in the colder months," Aniston said.
"There was a time when I thought there was something romantic about picking up and trotting off somewhere different every three months. Now I'm becoming more particular about the projects I take," she told Architectural Digest. "I look around at my husband and my dogs and our home, and there's nowhere else I want to be."
Aniston recently celebrated her 49th birthday on Feb. 11 with a group of her close friends in Malibu, which was hosted by her former Friends costar Courteney Cox.
Theroux, meanwhile, was in spotted a few days earlier in New York attending designer Adam Selman's fashion week runway show.