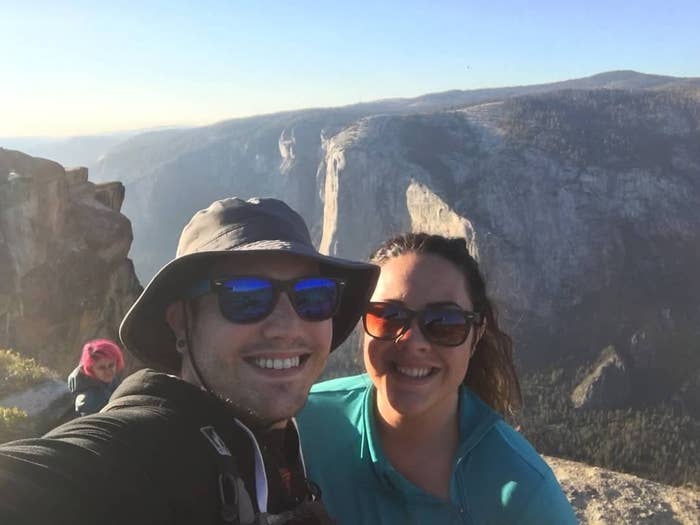 Days before a married couple with a passion for Instagramming their world travels fell hundreds of feet to their deaths at Yosemite National Park, Drea Rose Laguillo was busy taking a selfie at the same cliff's edge. It wasn't until later that she realized she had captured one of the bloggers in her frame.
Taft Point, where Minaxi Vishu Moorthy, 30, and her husband, 29-year-old Vishu Viswanath apparently fell on Oct. 24, is a big draw. At an elevation of 7,500 feet, the outlook is west of Glacier Point and provides dramatic views of Yosemite Falls and El Capitan. But it is also dangerous. Railing does not completely line the edge, making it possible for visitors to venture ever closer, sometimes with fatal results.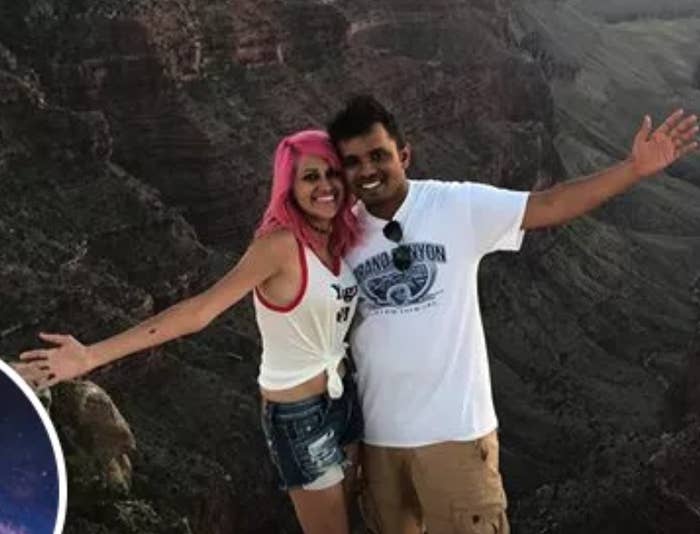 Laguillo said she distinctly remembers noticing Moorthy with her pink hair at Taft Point on Oct. 21. Moorthy was alone and did not appear to have a camera or be particularly dressed up for a photo. It was around 5:11 p.m. and getting dark.
"She did not have a camera and was not dressed to take any selfies like her Instagram pictures," Laguillo told BuzzFeed News.
It struck her as odd that Moorthy did not have a backpack or hiking shoes on, which Laguillo, an avid adventurist, said is "very dangerous."
"Taft Point is very jagged so there are points where it drops down and up, which is a big reason you would want to wear the right shoes and make sure you had a flashlight for when sunset begins," she said. Her fiancé, Sean Matteson, told the Associated Press he felt Moorthy was standing too close to the edge, but that she appeared comfortable.
The bodies of Moorthy and Viswanath were recovered roughly 800 feet below Taft Point on Oct. 26, but officials have yet to release the results of their investigation into what happened. Viswanath's brother, Jishnu, told NBC they had set up a tripod on the ledge to get a selfie. The next day, he said, park visitors saw the camera and alerted officials.

The couple ran the Instagram account @holidaysandhappilyeverafters, where they posted about their world travels and in one caption in March wrote about how "a lot of us including yours truly is a fan of daredevilry attempts of standing at the edge of cliffs."

Jishnu confirmed to BuzzFeed News that Moorthy is the woman in the background of Laguillo's picture, but said he did not know why his brother and wife apparently returned to Yosemite days after the photo was taken.
The science and engineering graduates from India had recently moved to San Jose, California, with Viswanath working as a software engineer for the tech company Cisco and Moorthy focused on the travel blog.