With Hollywood consumed by a sexual misconduct scandal that started with one of the industry's biggest players, producer Harvey Weinstein, the ensuing cascade of allegations is spilling into another dark realm: abuse of boys and young men at the hands of the powerful.
Nearly a month after the Weinstein scandal broke, BuzzFeed News published an exclusive report Oct. 29 in which Star Trek: Discovery actor Anthony Rapp alleged that in 1986, when he was 14 and staring in the Broadway run of Precious Sons, Kevin Spacey climbed on top of him on a bed and tried to seduce him.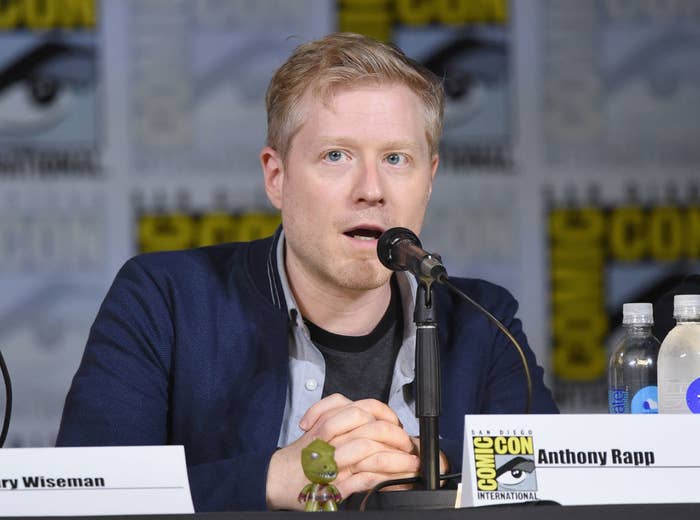 Not long after the story published, Spacey tweeted a statement saying that while he did not remember the encounter with Rapp, he nonetheless apologized for what he called "drunken behavior."
"I owe him the sincerest apology for what would have been deeply inappropriate drunken behavior," wrote Spacey, who was 26 at the time of the alleged incident.
Rapp said he was compelled to come forward given the now dozens of women speaking out about sexual misconduct in the entertainment industry.
But Rapp's allegation of a rising star — one who would go on to become one of Hollywood's hottest Oscar-winning commodities — taking advantage of a boy shines a light on a problem that attorneys and experts say has been kept in the shadows for far too long.
David Ring, an attorney who is representing a woman accusing Weinstein of rape, said he thinks the abuse of men is a deeply rooted problem in the entertainment industry. And that many victims decline to report the abuse only perpetuates the problem, he added.
"I think in general, not just in Hollywood, men are far less likely to report a sexual assault than females," said Ring, who specializes in sexual assault cases. "And even with females, it is a staggeringly high number that won't report it right away or at all. It's the rare male that will come forward and report because there is a lot of negative implications in Hollywood — the victim looks at it, 'If I report this, it is a career killer.'"
Gloria Allred, the celebrity attorney who has made a name for herself bringing sexual assault cases against high-profile men, including Weinstein, agreed that male victims often find it harder to complain.
For example, some may think "they should just take it as a joke, toughen up, and soldier through," she said. They may also not want to think of themselves as a victim, or if they're gay and not out, have concerns about the exposure.
"There is so much that goes on in their minds, including the fear of retaliation," she said.
Meredith Alling, director of development and communications for 1in6, a nonprofit serving male victims of unwanted or abusive sexual experiences, told BuzzFeed News that from an early age, men are told they "should never be — or even appear — weak or vulnerable."
"Indeed, the idea that men cannot be victims is central to gender socialization," she said. "These kinds of entrenched myths around masculinity, combined with the silence and stigma around the issue of male sexual abuse and assault, means that most men who have had such experiences do not begin to address the negative effects until their late 30s, 40s, or 50s, if ever."
But the current climate of public support in the wake of the Weinstein scandal is empowering more men to speak out, said Genie Harrison, a Los Angeles attorney who has spent 25 years specializing in sexual misconduct and employment cases.
Mexican actor Robert Cavazos recently posted on Facebook to allege Spacey attempted to grope him at a bar at the London theatre where he was artistic director for 11 years, and that there are "many of us with a 'Spacey story.'"
Actors Terry Crews and James Van Der Beek have also come forward with their own stories of being groped and harassed by powerful men in Hollywood, although they did not divulge names. And Corey Feldman has vowed to produce a movie naming alleged pedophiles in Hollywood.
Statutes of limitation, though, often make years-old allegations of sexual assault difficult, if not legally impossible, to prosecute, depending on the state. In New York, there is no limitation for a felony sex crime, but since no physical assault occurred in Rapp's case, combined with the lapse of more than 30 years, no criminal charges are likely to be brought.
Still, Harrison said she is hopeful that the current climate of encouraging victims to share their stories of abuse will lead to hard criminal consequences for the alleged perpetrators.
"I don't think things are going to change until there are major consequences that are imposed," Harrison said. "And I hope that the movement that is occurring now is going to be part of the consequences. People need to stop abusing their power and stop taking advantage of others."