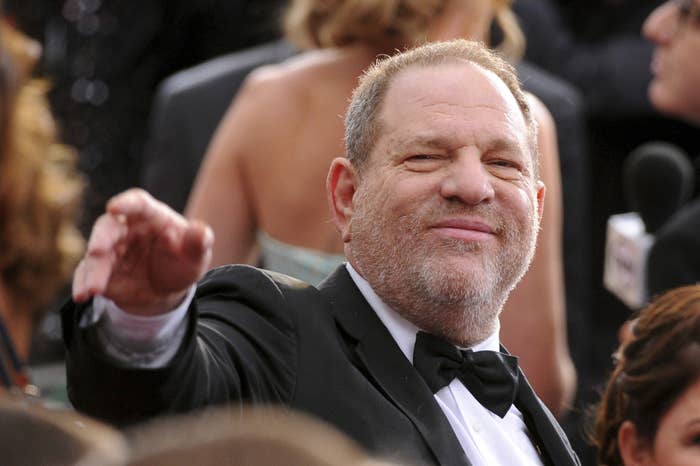 Harvey Weinstein filed a lawsuit Thursday against The Weinstein Company (TWC), demanding they hand over documents, including his personnel file, so he can defend himself from pending lawsuits and investigations.
Weinstein said he believes there is information within company records that will exonerate himself from the dozens of sexual assault and harassment claims against him and the company.
Weinstein said that after he was abruptly fired by the TWC board on Oct. 8, the company cut off his access to his corporate email that he said contains crucial information.
"Mr. Weinstein believes his email account — which is the primary, if not only, account he used during the term of his employment by the Company — will contain information exonerating him, and therefore the Company, from claims that may be asserted against him or the Company," his lawyers wrote in court papers filed in Delaware.

Within days of Weinstein's termination, the TWC board sent a letter to Weinstein's attorney informing him they were conducting an internal investigation and demanding Weinstein hand over credit card and bank statements, as well as computers, hard drives that Weinstein removed from office, mobile phones, and any documents concerning any settlements.

The TWC board also requested Weinstein personally waive any non-disclosure or confidential agreements to allow individuals to speak without constraint. The board is also seeking immediate access to any mobile phones and computers used by Weinstein's assistant.
Weinstein argues that in light of the internal investigation and that the fact that the New York Attorney General has opened a discrimination investigation into him, and because an actress has now sued him for $5 million, he needs the documents he is requesting to defend himself.
In addition, Weinstein said he seeks to prove that information from his personnel file has been leaked to the press and plans to pursue a potential claim against the company for mismanagement for leaking confidential company information.
Weinstein's attorneys demanded access to the TWC records on Oct. 18, asking for all emails sent to and from Weinstein's company email, his complete personnel and employment file, his employment agreement dated Oct. 20, 2015 and any amendments made to it. Weinstein argued as a stockholder and principal of the company, he is authorized to obtain such information.
He said he is seeking these documents to "assist in his defense of civil and criminal allegations arising out of or in connection with his employment at TWC and potentially to aid in investigating claims arising out of the wrongful termination of his employment."
The board denied Weinstein's request on Oct. 20, stating Weinstein failed to establish that the need for the documents was for a proper purpose and "essential and sufficient" for that purpose.