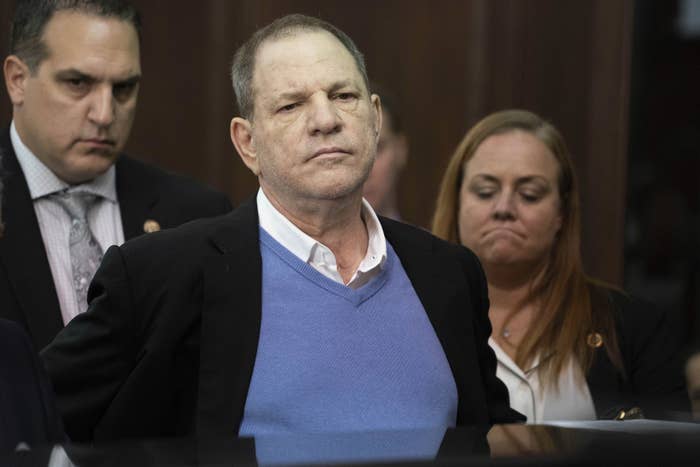 Harvey Weinstein was indicted by a grand jury in New York on rape charges Wednesday after refusing to testify.
Weinstein, who was arrested Friday and charged with rape and other sex crimes involving two women, was indicted with first- and third-degree rape and a first-degree criminal sexual act.
Manhattan District Attorney Cyrus R. Vance said in a statement that the indictment, which is needed for felony charges to go forward, brings Weinstein one step closer to being held accountable.
"Our office will try this case not in the press, but in the courtroom where it belongs. The defendant's recent assault on the integrity of the survivors and the legal process is predictable," Cyrus said. "We are confident that when the jury hears the evidence, it will reject these attacks out of hand."
Weinstein's attorneys said they advised their client not to testify before the grand jury Wednesday because they weren't given sufficient time to prepare and their request for postponement was denied.
The indictment, they added, did not come as a surprise.
"We also note of course that the Indictment merely mirrors the same charges in the criminal court complaint and does not add anything to the case we did not already know," Weinstein's attorney, Ben Brafman, said in a statement. "We remind everyone that an indictment is merely a formal accusation. Mr Weinstein intends to enter a plea of not guilty and vigorously defend against these unsupported allegations that he strongly denies."
The criminal complaint against Weinstein details two alleged acts with two women.

The first allegedly happened during the day between June and September 2004, inside Weinstein's West Village home at 375 Greenwich Street. According to the complaint, Weinstein forced a woman to "engage in oral sexual conduct, to wit, defendant grabbed the back of informant's head forcing her head downward and forcing her mouth onto his penis."

The second alleged incident happened on March 18, 2013, at a hotel in Midtown Manhattan. Weinstein is charged with keeping a woman "physically against her will in a room and engaged in sexual intercourse with informant by forcible compulsion, to wit, defendant penetrated informant's vagina with his penis and, at the time of the incident informant had clearly expressed her lack of consent to the act."
BuzzFeed News does not typically identify alleged victims of sex crimes.
Weinstein remains out on $1 million cash bail, although he must wear a 24-hour monitoring device and can't travel outside New York and Connecticut. After Weinstein posted bail on Friday, Brafman said in his client's defense that Weinstein "did not invent the casting couch in Hollywood." After news of the indictment was announced, Carrie Goldberg an attorney representing one of the alleged victims, tweeted that "[W]hat Mr. Weinstein's attorneys call casting couch behavior we know is actually a sex crime."
Weinstein is due back in court in the coming weeks, when he is expected to plead not guilty.
Vance, meanwhile, is encouraging any potential victims and others with relevant information to call his office at (212) 335-9373.