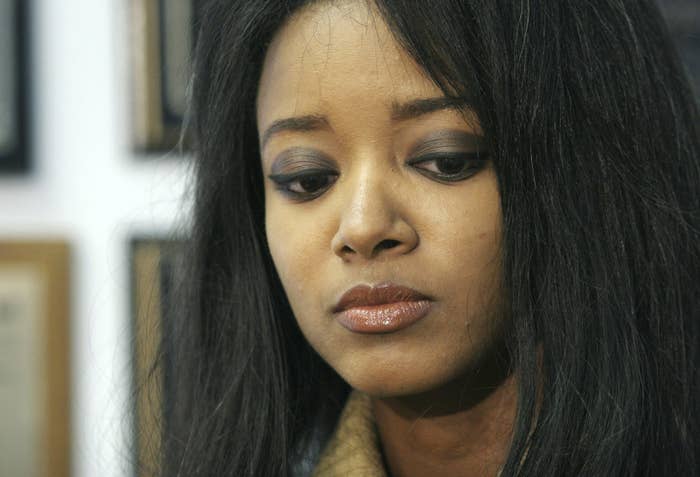 Holding her 7-year-old son, former Playboy model Stephanie Adams apparently jumped to her death from the 25th floor of the Gotham Hotel in New York on Friday, authorities said.
Adams, who had checked into the hotel the day before, and her son Vincent were reportedly found dead on a second-story balcony of the hotel.
New York City Police told BuzzFeed News it received a 911 call at 8:15 a.m. to respond to the hotel. When officers arrived, they found a 47-year-old woman and a 7-year-old boy unconscious and unresponsive. Emergency personnel pronounced both individuals dead at the scene.
NYPD Lt. John Grimpel said the medical examiner has yet to determine the official cause of death and that the investigation remains ongoing. However, law enforcement officials who declined to be identified told the Associated Press that Adams jumped. The AP and other media outlets also confirmed their identities.
Adams was embroiled in a contentious custody battle with her ex-husband, Manhattan chiropractor Charles Nicolai. Her former divorce attorney, Raoul Felder, said Adams had planned on taking Vincent to Spain on Tuesday for a visit, but at a court hearing two days ago, the judge overseeing the case asked that Adams turn over the child's passport for a later hearing.
A court holding a child's passport is not unusual in similar cases, so Felder said he doesn't understand Adams' reaction. He also noted that Adams, who homeschooled Vincent, was extremely close to her son.
"Nobody can understand it," Felder said. "Something must have happened."
Attempts to reach Nicolai were not immediately successful, and a receptionist at his practice said they had no comment on the matter.
In 2006, Adams sued the NYPD, as well as a taxi driver, for assault and battery after she said she was unnecessarily roughed up by an officer when her cab driver falsely reported she had a gun. She was awarded $1.2 million in damages as a result in 2012.
Attorney Sanford Rubenstein, who represented Adams in that civil case, told BuzzFeed News he was shocked by the reports of Adams' death. He also said Adams was very close to her son and brought Vincent, then 2 years old, to court every day during the trial.
Rubenstein said he spoke to her as recently as a few months ago and that nothing seemed out of the ordinary.
"She loved that boy," he said. "This is a terrible, terrible tragedy."