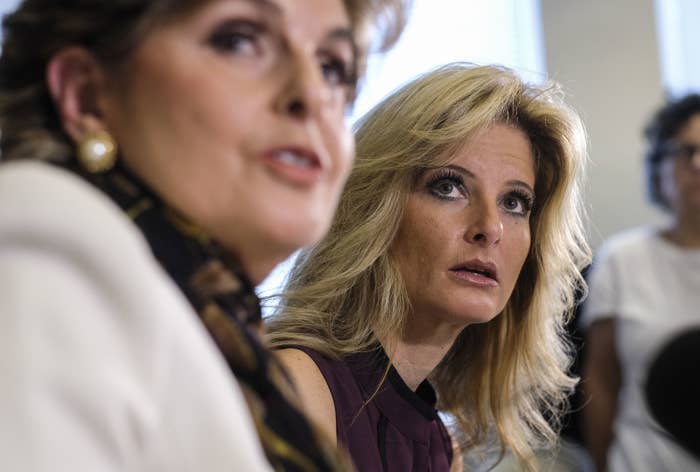 A former contestant on The Apprentice who alleges Donald Trump groped and forcibly kissed her at a hotel in 2007 filed a defamation lawsuit Tuesday, alleging the president-elect publicly disparaged her when he called her a liar.
Trump called the allegations by Summer Zervos that he sexually assaulted her in Beverly Hills lies, and vowed to sue her and a dozen other women who came forward with allegations of misconduct during his campaign.
Since he has been unwilling to retract his statements calling her a liar, or acknowledge that she was telling the truth, Zervos said she had no other choice but to file a lawsuit "in order to vindicate [her] reputation."
Her attorney, Gloria Allred, called the decision to sue brave.
"She knows that she will be attacked by Donald Trump," Allred said at a news conference in Los Angeles. "We've waited two months. Time is up."
Zervos alleges that she was "ambushed by Mr. Trump on more then one occasion" and that "he suddenly, and without her consent, kissed her on the mouth repeatedly: he touched her breast; and pressed his genitals up against her," according to a lawsuit filed in New York on Tuesday.
She pushed Trump away, and told him his conduct was inappropriate, but he did not care, Zervos alleges. After she came forward with her allegations, she said Trump lied in calling them "made-up events that never happened," "100% fabricated and made-up charges."
At the press conference, Allred said Zevros will drop her lawsuit if Trump issues an apology and retraction.
Trump's treatment of women came under greater scrutiny during his campaign after the release of a 2005 Access Hollywood tape that recorded him bragging about kissing women, grabbing them "by the pussy," and attempting to have sex with a married woman.
Trump has denied all of the allegations made against him.