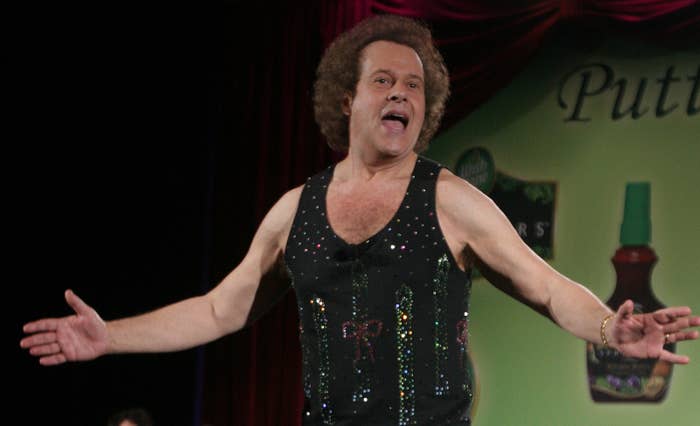 Fitness guru Richard Simmons filed a defamation lawsuit Monday against the National Enquirer and Radar Online for publishing stories that he said falsely alleged he is transitioning from male to female and undergoing sex reassignment surgery.
Simmons is suing the publications on the grounds that the stories were part of a "hurtful campaign of defamations and privacy invasions, falsely asserting that Mr. Simmons is transitioning from male to female, including 'shocking sex surgery,' breast implants, hormone treatments, and consultations on medical castration," according to the lawsuit filed in Los Angeles Superior Court.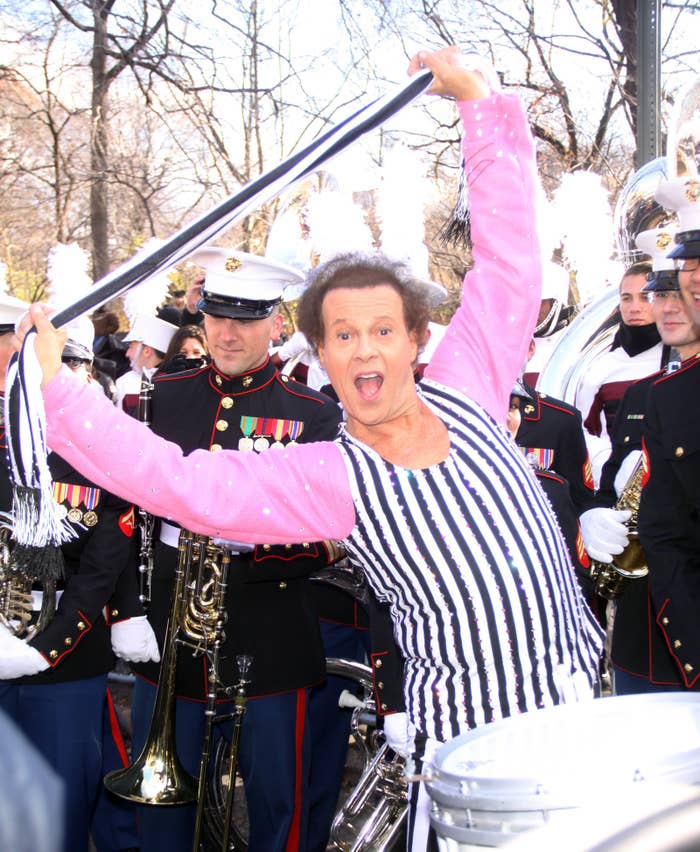 The suit states that the allegations are particularly offensive because Simmons is an "avid supporter of the LBGTQ community and individual autonomy." Simmons alleges that both the National Enquirer and Radar Online "specialize in salacious stories, often featuring celebrities, callously calculated to generate profit through defamation and invasion of privacy."
Simmons admits in the suit that he has been subject to intense media scrutiny since he announced in 2014 that he was taking a leave of absence from public life. He claims that shortly after retreating, a man named Mauro Oliveira simultaneously "blackmailed, extorted and stalked Simmons for several years with the intention of destroying the career and reputation of Mr. Simmons" and also "contacted several press outlets, including National Enquirer and Radar, and offered information on Mr. Simmons' disappearance for a fee."

Simmons believes that Oliveira, his former friend and masseuse, contacted the National Enquirer on at least three separate occasions, including with false allegations that Simmons was transitioning from male to female. When Simmons learned that tabloid was planning to publish a story with those claims, his attorney informed the publication the information was false.
But despite this denial, the story was published with the headline "Richard Simmons: He Is Now a Woman!" with a picture of Simmons wearing a dress and a wig. The article stated that Simmons has "slowly transformed into a female with breast implants, hormone treatment, and medical consultations on castration" and that he is "now living as a gal named Fiona."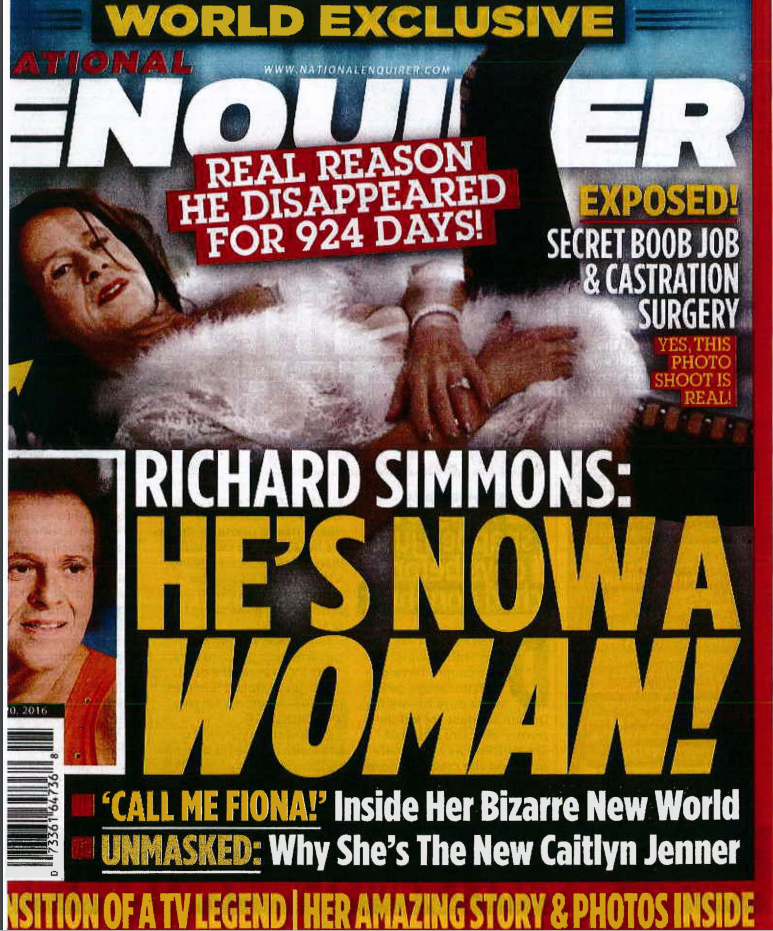 Simmons said the story is 100% false and the photo is an old image of his longstanding burlesque-style entertainment persona. Simmons said the National Enquirer and Radar Online also published other stories with the same premise.

The two publications, both owned by parent company AMI, issued a statement declaring that they stand by the reporting — and will continue to probe Simmons' life.
"Our story was based on credible sources who were in Mr. Simmons' inner circle. The photos provided to The ENQUIRER are real — and speak for themselves," the statement said. "We stand by our reporting about Mr. Simmons, and intend to vigorously defend this lawsuit and win public vindication of our reports.
"We will also aggressively pursue our ongoing investigation into his life and who is really behind this bizarre and meritless lawsuit."
Simmons' silence over his reasons for withdrawing from his exercise studio and from making appearances has fueled a public obsession with the once-approachable weight-loss personality, spawning the podcast Missing Richard Simmons by Dan Taberski. Missing Richard Simmons repeated the transitioning rumor, and also heavily relied on Oliveira as a source.
Reached by email Monday afternoon, Taberski wrote: "The lawsuit isn't about me, so I'm not going to comment on it. The story I set out to tell ended back in March. But clearly it's not over yet for some of the people involved."
The National Enquirer said in their statement that this public interest drove its reporting. "This is a legitimate news story that demands coverage. It is the business of The National ENQUIRER — and has been for the past 90 years — to report on what goes on behind the closed doors of Hollywood," the statement read.