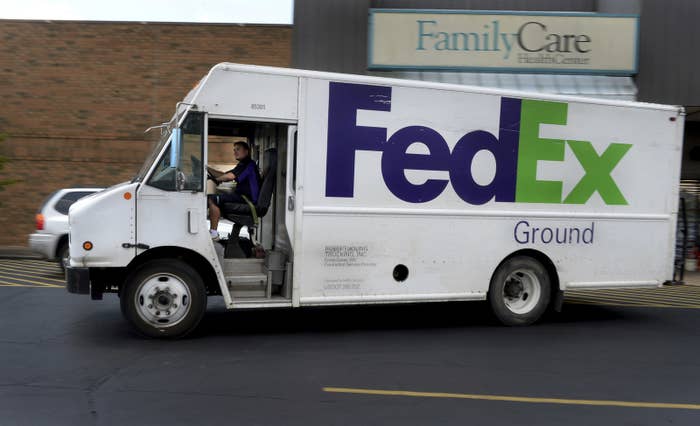 An Oregon FedEx driver will not be charged with any crime after punching a man who made racist remarks — despite the fact that the man later died.
The road rage altercation occurred in September. Timothy Warren was driving his delivery truck through Portland when a man began screaming at him "very aggressively" at an intersection, yelling for him to slow down. When Warren stopped his truck, he got into a heated exchange with Joseph Magnuson, 55.
Witnesses told investigators that Magnuson used racial slurs against Warren, who is black, according to report by Oregon's Multnomah County District Attorney's Office.
Warren told investigators he stopped his truck and then tried to reason with Magnuson, saying that he was "exhausted" and "just wanting to do his job."
Magnuson, though, continued yelling at Warren, calling him a "fucking nigger" in combination with other aggressive and abuses phrases "over and over again," according to witnesses. Witnesses also said the truck had been moving slowly — from 5 to 20 mph — and not too fast for the location.

The confrontation escalated when Magnuson took the first swing. Warren responded by hitting Magnuson above his left eye. Magnuson fell, hitting the ground, briefly lost consciousness, and later died.
However, the DA determined that Warren's use of force was a "lawful act of self-defense." The county medical examiner also concluded that Magnuson was in "extremely poor health" prior to the encounter, and his fall after the punch to the head aggravated preexisting conditions.
"The wound to Mr. Magnuson's head inflicted by Mr. Warren's punch was superficial and not fatal," according to a memo prepared by the Multnomah County Deputy District Attorney Adam Gibbs. "The ensuing fall to the ground aggravated Mr. Magnuson's pre-existing conditions and resulted in his death."

Senior Deputy District Attorney Adam Gibbs wrote in the memo that if Warren had kept driving, Magnuson might still be alive, but "the decision by Mr. Warren, who is black, to not let the racist vitriol to which he was being subjected go unanswered is not of legal significance."
Gibbs concluded that because Magnuson was the initial aggressor, and because Oregon law contains no "duty to retreat" provision, that Warren was well within his rights to defend himself.