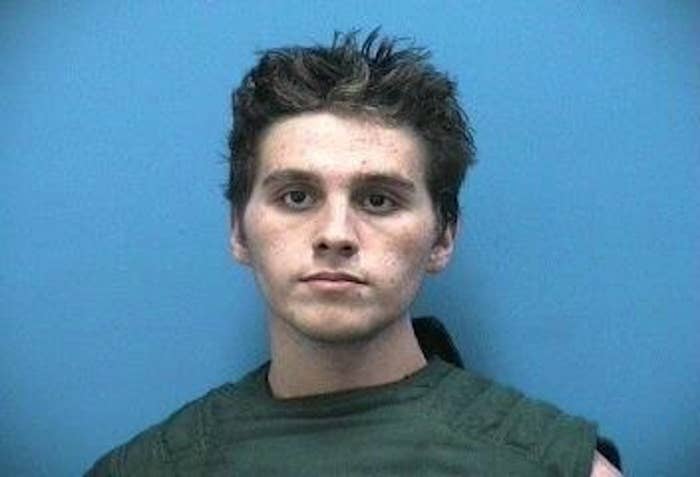 The Florida student accused of killing a couple in their garage and then chewing off a portion of one of their faces told Dr. Phil he was fleeing a "dark figure" named Daniel and "wasn't thinking straight" at the time.
The Florida State Attorney's Office on Tuesday released the unaired Dr. Phil interview with 20-year-old Austin Harrouff, who is accused of double murder, after lawyers for NBC station WPTV sought a court order to make it public. Phil McGraw's show was to air the segment on Oct. 28, but pulled the clip at the last minute before it aired.
In the 22-minute interview, Harrouff said he could barely recall the night on Aug. 15. Harrouff had been having dinner with his family at a restaurant in Tequesta when he stormed out. Authorities said he walked toward his family's home, but instead ran into the garage of John Steven and Michelle Mischon's home.
Harrouff described running into a "dark figure" named Daniel in the street who said "hello" during his walk home. He then took off most of his clothes and ran.
While he denied ever doing bath salts or steroids, Harrouff admitted that he had been losing touch with reality for the past several months before the incident and believed he had superpowers.
"I just remember being scared and being afraid," said Harrouff, who then ran down the street into a open garage door. It's there that he admitted to drinking something that left him with severe burns in his esophagus and eventually in a coma.
Harrouff added that he does remember being yelled at and picking up a machete in the corner of the garage. He said he remembered John Steven saying something, but doesn't know what.
"It's like distorted, but I wasn't aware of it at the time," Harrouff told Dr. Phil during a FaceTime interview. "It was a blur."
When authorities arrived, Harrouff was allegedly sitting atop of Steven's body, "grunting and growling," Martin County Sheriff William Snyder said. Mischon was found dead in the garage and a neighbor who suffered multiple stab wounds survived.
Officers used a taser several times along with a police dog to eventually subdue Harrouff.
Defense attorneys had tried to prevent Harrouff's interview from being made public, saying it would violate his right to a fair trial, but lost on appeal.
Toward the end of the interview, Harrouff became emotional and started sobbing when Dr. Phil asked if he had seen a picture of the couple since the incident.
"I don't have words to express how I feel. It's like a nightmare," Harrouff said. "I am deeply sorry to the family that was affected. I didn't want to ever consciously do something like this. I never planned it. I never wanted to do it. I don't know what to say."