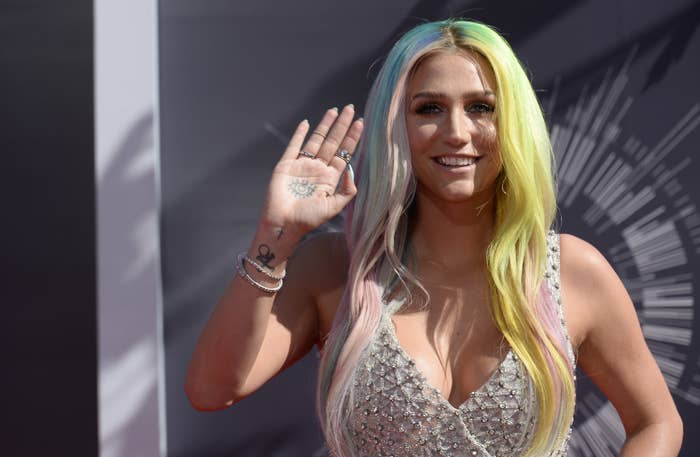 After receiving assurances that Kesha will not use her Billboard Music Awards as a platform to air her legal battle with Dr. Luke, the music producer is now allowing her to perform at the broadcast.
In a statement to BuzzFeed News Thursday, Dr. Luke's record label, Kemosabe, said it had always been in support of the Billboard Music Awards performance:


Kesha's performance on the Billboard Music Awards was always approved, in good faith. Approval was only suspended when Kemosabe learned Kesha was to use the performance as a platform to discuss the litigation.

Now that Kemosabe has obtained assurances, that it is relying upon, from Kesha, her representatives and Dick Clark Productions that neither Kesha nor her supporters will use the performance as such a platform, the approval has been restored.
Kesha on Tuesday insisted that she had no plans to reference her legal battle with Dr. Luke at the Billboard Music Awards after Kemosabe canceled her performance.

Kesha has also been locked in a courtroom battle to get out of her exclusive multi-record agreement with Kemosabe Records and Sony Music, claiming he sexually assaulted and abused her.
Dick Clark Productions told BuzzFeed News in a statement Tuesday that Dr. Luke's record label rescinded its approval of Kesha's appearance at the Billboard Music Awards following "a media report" on May 11, the same dayTMZ reported the singer planned to make direct references to the ongoing legal battle during the performance.
Kesha insisted on Instagram Tuesday that the performance was only about taking part in a Bob Dylan tribute and honoring "one of my favorite songwriters of all time."
After the announcement, Kesha posted this on Instagram with the caption: "good work animals. 💪🏻💪🏻💪🏻💪🏻 looks like our voices can be heard after all."