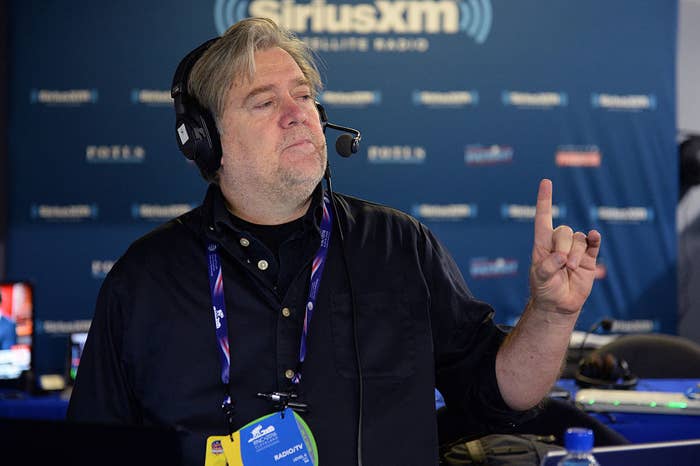 Donald Trump's campaign CEO, Stephen Bannon, was accused by his ex-wife during divorce proceedings of trying to thwart her efforts to send their children to private schools with large numbers of Jewish students, citing his disdain for "whiny brats."
"He said that he doesn't like Jews and that he doesn't like the way they raise their kids to be 'whiny brats' and that he didn't want the girls to go to school with Jews," his ex-wife, Mary Louise Piccard, claimed in court fillings reviewed by BuzzFeed News.
Bannon's spokesperson, Alexandra Preate, denied that he ever made the comments.
"Mr. Bannon said he never said anything like that and proudly sent the girls to Archer for their middle school and high school education," Preate said.
In his response filed in court, Bannon said he was cut out of the selection process altogether.
Pursuant to the express language of our Judgment, my obligation to pay any private school expenses is conditioned on my being consulted and approving the private school.

I was never consulted about the selection of the proposed school and no effort was made to give me the opportunity to participate in the process.

I do not support the children attending a secular school and I do not agree with the or approve the unilateral selection made by (Piccard)."
Attempts to reach Piccard were not immediately successful.

The accusations are the latest to come out of a court record that has come under scrutiny after the former head of Breitbart News was tapped to lead Trump's Republican presidential campaign. They also come on the heels of Hillary Clinton accusing Trump of "taking hate groups mainstream" at a campaign rally, citing Bannon's role and the Republican candidate's association with British politician Nigel Farage.
Bannon was also charged with misdemeanor domestic violence, battery, and dissuading a witness after allegedly grabbing his then-wife's neck and wrist during a dispute in 1996, and smashing a phone when she tried to call 911, according to court documents.

A Santa Monica police report also detailed the incident. However, the case was later dropped when his ex-wife failed to appear in court.
On Friday, Trump campaign manager Kellyanne Conway told BuzzFeed News she didn't know if he was aware of the incident.

In the divorce declaration filed in Los Angeles County Superior Court in 2007, Piccard claimed Bannon had demanded their daughters "go to a strict structured Catholic School."
At one point, Piccard alleged Bannon called administrators at the private school and threatened to sue them if they accepted their children.

"During a joint visit to see Westland School and Willows Community School, [Bannon] asked the director why there were so many Chanukah books in the library. After we saw Willows he asked me if it bothered me that the school used to be a Temple. I said no and asked why he asked ... he did not respond," Piccard alleged.
Piccard also cited an email exchange dated March 31, 2007, in which she told Bannon she didn't know what percentage of Jewish girls made up the student population at the Archer School for Girls.
Piccard wrote in her filings that she asked Bannon why he cared, adding that she had "not been raising the girls to be prejudiced against Jews or anyone else for that matter."