LOS ANGELES — A federal judge in Los Angeles on Wednesday declined to declare a mistrial in the civil rape case brought against NBA star Derrick Rose and two of his friends.
Rose, along with friends Randall Hampton and Ryan Allen, had requested the judge declare a mistrial and dismiss the $21-million sexual battery case brought by a woman identified only as Jane Doe after her attorney produced three text messages on the second day of trial without adequate warning, the defense argued.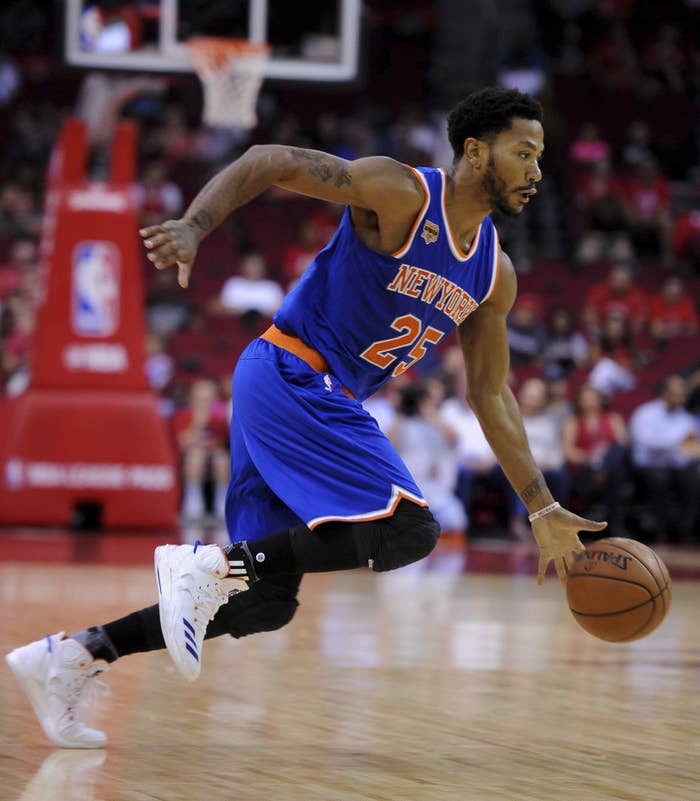 Rose's attorney, Mark Baute, argued the texts had been "selectively omitted" from the discovery phase of the trial, putting his team at an unfair disadvantage.
US District Court Judge Michael Fitzgerald, however, disagreed.

"I'm not going to dismiss it now when we have a jury sitting in the box that can render a fair verdict," he said.

The three texts in question came from the woman's phone. One text from Rose stated, "send me a picture of the girl for the threesome."
The second text was from the accuser to Rose concerning her friend, Kendra: "Why are you going to have me bring a bitch and you ain't going to fuck her."
And the third text was at 10:03 a.m. the next day, also from the accuser to Rose: "when are you making a deposit. I need to give some cash to Kendra."
Defense attorneys have argued that the sex was that night was consensual, not rape.

Baute argued the failure to admit the text demanded "an outright dismissal."
"Three text messages are not random," Baute said. "This is exactly what we wanted to prove. This was an evening for sex."
The woman is suing Rose, Hampton, and Allen, alleging sexual battery, conspiracy to commit rape, battery, international infliction of emotional distress. She alleges in her complaint that in 2013 after repeatedly turning down Rose's request for a threesome, she was drugged and Rose and Hampton and Allen entered her unlocked apartment and raped her. She also alleges that she and was in and out of consciousness during the incident.
When she woke up the next day, the woman alleges her dress was up around her neck "and there was lubricant all over her body." There was also what appeared to be used condoms strewn around her room and bed, according to the complaint.
She did not immediately go to the police because she was "terribly ashamed and embarrassed," according to the complaint.

Her attorney, Brandon Anand, argued the text messages in question were randomly sent while his client was drunk. As for only recently revealing their existence, he told the judge two attorneys had handled the case prior to him taking over last year.
However, Hampton on Wednesday testified that the woman and her friend came over to Rose's house that summer and instigated sexual contact during at the pool after drinking. He also told the court that at no time did she appear to be drunk or drugged.

Early the next morning, the three men went to the woman's apartment, where Hampton said he kissed her and they had sex again. After they were finished, he testified that he whispered in her ear that it was nice and would like see her later, to which she said OK.
Also on Wednesday, a Los Angeles police detective who investigated rape allegations against Rose was identified by coroner's officials after being found a day earlier in her home with a gunshot wound.
LAPD sources told the Los Angeles Times the woman, 44-year-old Nadine Hernandez, was one of two detectives assigned to the Rose case. Police in the nearby city of Whittier reported getting a call Tuesday afternoon of an attempted suicide.
Authorities, however, said they are still investigating to determine if it was suicide or homicide.