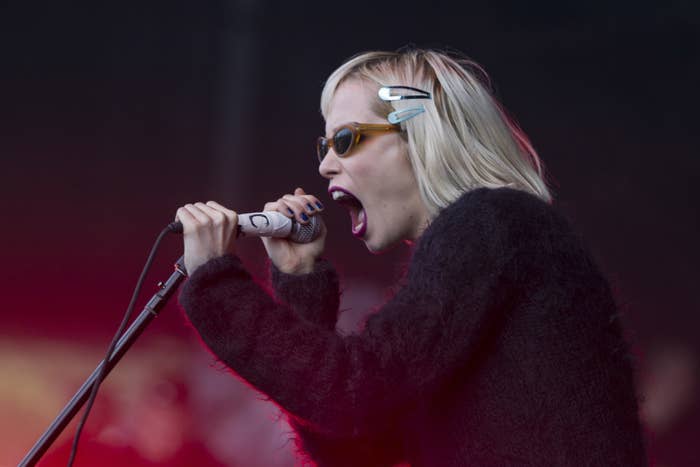 Crystal Castles singer Ethan Kath filed a defamation lawsuit Friday against Alice Glass and her boyfriend, Jupiter Keyes, after Glass, a former singer and bandmate in the Canadian electronic duo, released a statement on Tuesday alleging years of abuse by Kath.

In her post, Glass wrote "I met 'Ethan Kath' (Claudio Palmieri) when I was in the 10th grade. The first time he took advantage of me was when I was around 15. He was 10 years older than me."
Glass said that "over a period of many months, he gave me drugs and alcohol and had sex with me in an abandoned room at an apartment he managed." Glass also alleged that the sex "wasn't always consensual."
According to Kath's complaint, he said after he ended his relationship with her in 2012, Glass began accusing him of stealing her share of the band's profits. But Kath said five subsequent audits revealed no wrongdoing on his part. Despite the audits, Kath said Glass "hatched a plan to ruin his good name and reputation in the industry, destroy Crystal Castles and in turn boost her own career."

Kath said Glass and Keyes conspired together to spread false and malicious lies that he was physically and sexually abusive. He said he learned of the allegations in 2014 when he discovered a fan had been contacted by Glass to post "horrific and humiliating untruths" about him. Kath said the fan never went through with the post after Kath's attorney sent a cease and desist letter. Kath also said Glass' "illicit drug abuse became substantial and her behavior erratic" when she began dating Keyes, according to his complaint.
Kath's attorney Shane Bernard said, "my client categorically denies all the malicious lies about sexual abuse. At no time did my client ever force Alice Glass into having sex with him against her will, much less by use of violence or drugs to take advantage of her."
Despite the fact that the two broke up five years ago, Glass, Kath said, has persisted in trying to damage his reputation evidenced by her recent blog post. He said Glass' false claims have damaged his reputation causing him irreparable harm, including the cancellation of Crystal Castles' North American tour, costing him at minimum $300,000 in lost profits.

Glass did not immediately respond to a BuzzFeed News request for comment.