Three days before the official start of the NFL season, Nike has unveiled its 30th anniversary "Just Do It" campaign featuring the face of Colin Kaepernick.
Kaepernick, a quarterback who is currently a free agent, last played in 2016 for the San Francisco 49ers. He played six seasons for the NFL before he began to silently protest police brutality and racial inequality in the US by taking a knee during the playing of the national anthem. Kaepernick declared himself a free agent in March 2017 but has remained to this day without a team.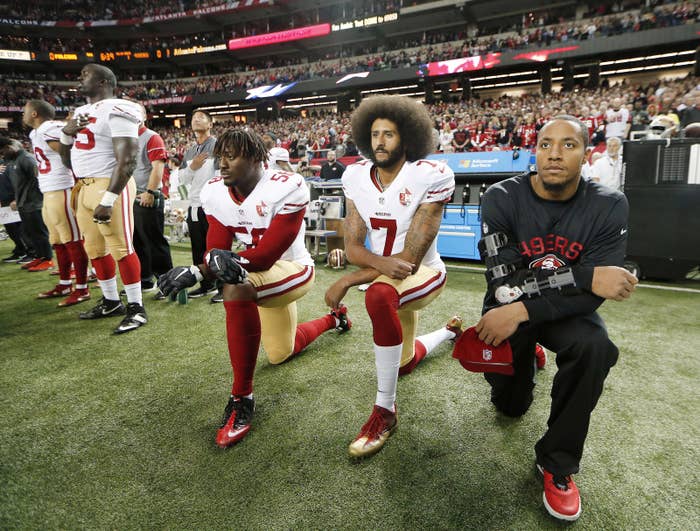 In the Nike campaign unveiled Monday, Kaepernick's convictions are front and center with a close-up, black-and-white image of his face and the quote "Believe in something. Even it means sacrificing everything." Nike reportedly signed Kaepernick to its endorsement roster in 2011 and has kept him on, despite him not actively playing for a team. Kaepernick has since filed a grievance against NFL owners alleging they "have colluded to deprive Mr. Kaepernick of employment rights in retaliation for Mr. Kaepernick's leadership and advocacy for equality and social justice and his bringing awareness to peculiar institutions still undermining racial equality in the United States."

Kaepernick's protest sparked other athletes to follow suit and outrage from NFL owners, sports fans, and from President Trump. During a rally in Alabama in 2017, Trump told supporters he'd love to see an NFL owner say, "get that son of a bitch off the field right now" and fire any player who refuses to stand during the national anthem. Two weeks later, Vice President Mike Pence attended a football game but walked out in disgust before the game began when players protested, later tweeting that he left because he "will not dignify any event that disrespects our soldiers, our Flag, or our National Anthem."
In May, the NFL changed its policy to no longer require players to be on the field during the anthem, but also that players who publicly protested during the song would be disciplined.
In a statement Monday, NFL spokesperson Jocelyn Moore appeared to express support for Kaepernick's appearance in the ad campaign, saying that the league "believes in dialogue, understanding, and unity."
"We embrace the role and responsibility of everyone involved with this game to promote meaningful, positive change in our communities," Moore said. "The social justice issues that Colin and other professional athletes have raised deserve our attention and action."
Since the unveiling, reactions to Kaepernick being the newest Nike brand ambassador have been mixed.
However, others — who were not happy with the selection of Kaepernick — vented their frustrations on social media.

Nike did not immediately return a request for comment from BuzzFeed News.