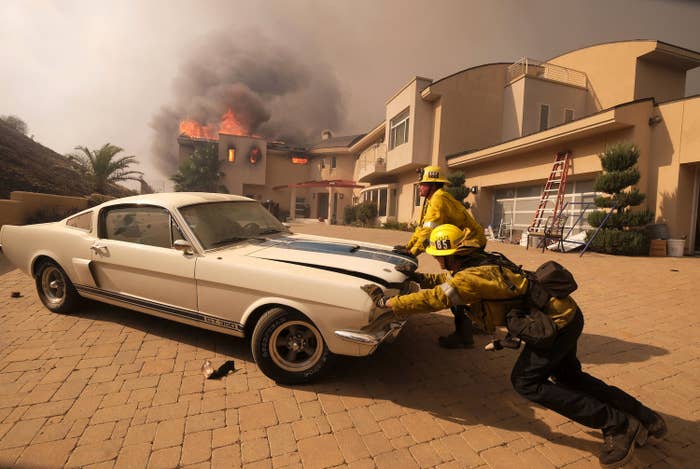 As an out-of-control wildfire spread toward the Pacific Ocean near Los Angeles on Friday, more and more celebrities found themselves in its path and forced to evacuate along with thousands of others.
The wind-driven Woolsey fire had burned at least 14,000 acres and prompted the evacuation of 75,000 homes by Friday afternoon, including the entire city of Malibu. The Kardashian clan also found themselves in its path.
Kim Kardashian West tweeted Thursday night that she had flown back to California only to have to pack up her home in Calabasas due to the fire. Her husband, Kanye West, later posted that his family was safe and thanked everyone for their prayers. However, on Friday, TMZ reported that the Woolsey fire had reached their new home and that it was in "grave danger of being consumed by the flames."
Representatives for the Kardashians did not immediately respond to requests for comment. But Kim tweeted that her home had appeared to be spared.
Khloé Kardashian tweeted, "I can't believe this is happening!!!" while also thanking emergency crews.
"I've never seen anything like this," she added.
Later in the day, Khloé Kardashian tweeted that while she'd left her house with only "the clothes on her back," she made sure to grab almost all of her daughter True's belongings.

Caitlyn Jenner's rep Alan Nierob said his client was "safe and long since evacuated" from her Malibu home, but could not confirm reports that it had burned down.

Others experienced total loss, including Doctor Strange director Scott Derrickson, who said that while his family was safe, their home had burned down and they had lost everything.
"We lost our home, but we are all safe and that's the important thing. Gonna be offline for awhile," he tweeted.
Alyssa Milano said on Twitter that she was concerned about the welfare of her home and her animals after being forced to evacuate, and pleaded for help in saving her five horses.

Other celebs said they too had evacuated and were hoping for the best, including actor Rainn Wilson, who tweeted that he and his dogs and pigs were safe. Cher said that while she was worried about her Malibu house, her heart was broken for the people who had lost everything in the fire.
Even YouTubers, including Jake Paul, were forced to flee. (He later tweeted that his brother, Logan, "won't give everyone the WiFi because there's too many people at his house.")
Meanwhile, Derek Waters, the creator and host of the Comedy Central show Drunk History, posted on Instagram that he was cutting production in the Santa Monica Mountains due to the fire, saying, "I love my job but I love my crew more."

She tweeted that she was "sitting here with many of you wondering if my home will burst into flames."
A representative for Warner Bros. could not confirm reports that the home used in ABC's The Bachelor had possibly been destroyed. However, a BuzzFeed News reporter near the scene did see the property damaged by the fire, but could not determine to what extent.
ABC's head of reality TV programming, Rob Mills, tweeted earlier in the day that the mansion was "in grave danger."

On Saturday, the producers of the show sent BuzzFeed News the following statement:
The "Bachelor Mansion" is a private home in one of the current burn areas of Los Angeles. The area has been closed to traffic so we do not know the current status of the home. It is primarily a private residence, and our main concern is with the family who has been displaced, their neighbors, and all the communities impacted by this tragic fire. We thank the tireless efforts of the first responders here in Los Angeles County and across the State.

The Woolsey fire was just one of three major wildfires raging across the state on Friday, including the Hill fire, also in Southern California, and the Camp fire in Northern California, where the bodies of at least five people were discovered in charred vehicles that had been overtaken by fast-moving flames. A sixth person was also confirmed dead in the fire, but officials did not know the circumstances.