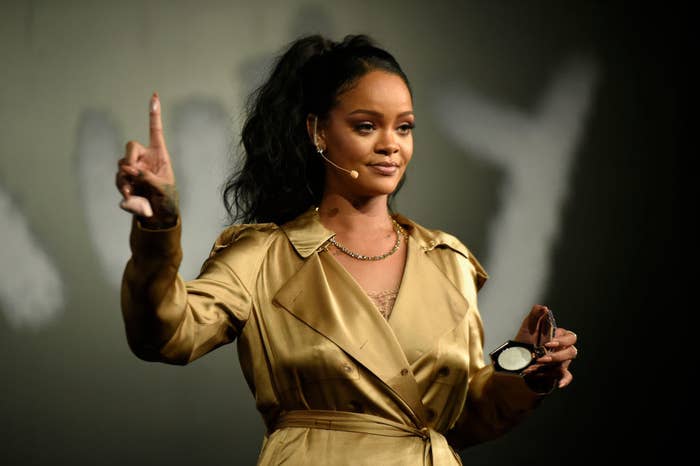 Two years after assailants used Kim Kardashian's social media posts to track her down in Paris and rob her at gunpoint, celebrities apparently haven't learned the TMI lesson.
Los Angeles police this week arrested a team of people who they say tracked the social media profiles of Rihanna, Christina Milian, Dodgers star Yasiel Puig, and Rams wide receiver Robert Woods to allegedly break into their homes while they were away.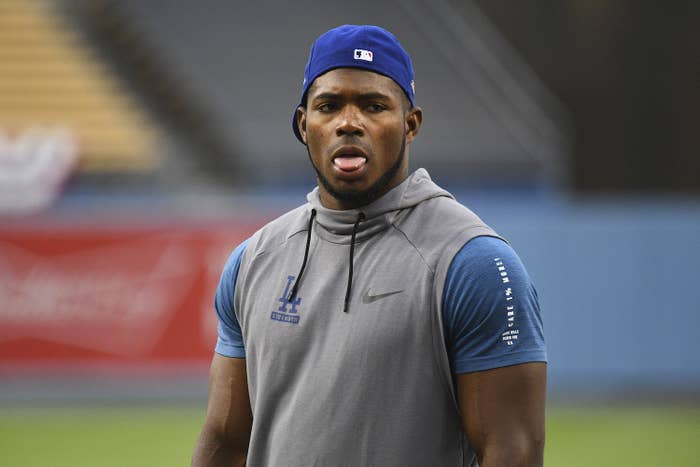 Puig's home has been burglarized four times — twice in the last two months. Milian's home was broken into twice in four days. The burglars even left behind a wish list of other celebrity targets that included Matt Damon and Viola Davis, police said.
Each time, the celebrity targets were out of town, a fact the perpetrators were aware of by keeping meticulous track of their whereabouts with the aid of social media, Lillian Carranza, captain of the LAPD's Commercial Crimes Division, told BuzzFeed News.
"At first, we were under the impression these burglaries were being done at random," she said. "Come to find out, to our surprise, they were very well planned out and they had stalked the location."
Two days before it's believed burglars hit Nicki Minaj's home, the rapper posted an Instagram photo of her in a private jet with the caption, "Who wants to fly with me? You get your own bedroom & your own bathroom. For the low low."

The day Rihanna's house was burglarized, she tweeted about going to an event in Dubai.
"The prominence of social media in today's culture exposes everyone," said Jason Porter, vice president of the security services firm Pinkerton.
According to police, there have been more than two dozen celebrity burglaries across Los Angeles in the past two years. Singer Alanis Morissette's home was burglarized and she lost $2 million in jewelry, $1 million in jewelry and handbags were taken from the home of Real Housewives of Beverly Hills' Kyle Richards, and John Mayer had his extensive watch collection stolen that he estimated was worth "tens of millions."
Lucy Hale, Kelly Clarkson, Hilary Duff, Scott Disick, and Kendall Jenner are just some of the other celebrities who have experienced break-ins within the last two years. Carranza said the perpetrators do it by "following them religiously on social media."
They then know when a celebrity has an upcoming event, concert, film commitment, or other event and use that information to determine when their house will be empty.
Once they have determined the home is unoccupied, Carranza said the burglary crew will send a well-dressed accomplice to ring the front door, and if no one answers, they know it is "good to go" and the rest of their crew moves in. Once inside, the thieves head straight to the master bedroom where the victim's most precious belongings are typically kept, Carranza said.
They move so quickly, they're often gone before the alarm company can even send out a notification, she added.
While the LAPD begins the work of coordinating with other law enforcement agencies in light of the recent arrests to determine if more celebrity home break-ins are connected, Carranza is reminding the public to be mindful of what they were posting online. For celebrities who insist their constant social media presence is an important part of their business model, Carranza says that if whereabouts and appearances must be shared, hire a house sitter. And don't keep any jewelry or valuables that have been posted on social media at the home.
Some other practical tips to "harden the target" include:
- Don't post that you are going to be out of town for an extended period of time.
- Invest in an alarm system.
- Leave on lights or television during the day to give the appearance that somebody is at the house.
- Don't let your mail pile up at your front door. Ask for a mail hold.
- Inform your neighbors that you will be out of town and ask them to keep watch.
- And even inform your local police department that you will be out of town. "We would love to provide you with that extra patrol," Carranza said.
Celebrities who are targeted are often unprepared because nothing has happened to them before, so they don't believe they are high on the risk scale, Porter said.
And it's not just celebs. Thieves now have the ability to "geo-hack" location tags and can be notified whenever anyone in a 5-mile radius mentions that they are going on vacation, he added.
General advice: Keep in mind what you are putting out there, he said, you never know who's keeping track.