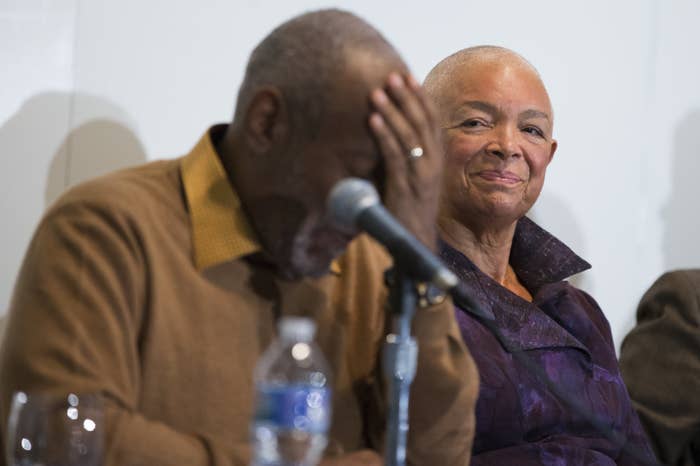 Bill Cosby's wife refused to answer at least 98 questions under oath during her videotaped deposition regarding his denial of sexual assault accusations, according to transcripts released this week.
Camille Cosby was compelled to participate in the deposition in the case brought by seven women against her husband, but the judge ruled she could raise the marital privilege rule when appropriate and decline to answer certain questions.
A partial transcript of Camille's deposition, taken Feb. 12 in Springfield, Massachusetts, was released Monday, but noted that "highly confidential material" had been redacted.
Camille had been fighting efforts to testify in the lawsuit filed by women who claim her husband's public denials of their sex assault allegations constitutes defamation.
The case has been temporarily postponed so that Bill Cosby and his legal team can concentrate on a separate criminal case in which he was charged in Pennsylvania with three counts of aggravated indecent assault, a second-degree felony. That case involves Andrea Constand, who accuses the comedian of drugging and sexually assaulting her in 2004 at his suburban mansion after meeting him at Temple University.
But after a judge ruled that Camille could be deposed, she was required to sit in front of six attorneys for questioning that, according to the transcript, at times got heated.
Under oath, Camille said she did not know that there was a lawsuit filed by seven women against her husband, nor could she recall the first time she became aware of the allegations against her husband.
When Joseph Cammarata, the attorney representing the seven women, asked Camille if she was aware that Constand had previously sued her husband, her legal counsel, Monique Pressley, objected.
"Privilege. Do not answer," she advised.
Cammarata was so frustrated with Camille's refusal to answer even basic questions that he threatened to get the judge on the phone.
"This is – this is outrageous," he said.
"I'm happy to get the judge on the phone," Pressley shot back.
When questioning resumed after a five-minute break, Cammarata said he reserved the right to call the judge because he believed Camille was inappropriately instructed not to answer certain questions.
Camille then acknowledged that at some point she became aware that Constand was suing her husband, but she could not recall exactly when. She added that she learned of the case from her husband, but that she has never read a copy of the complaint and only "somewhat" understands the allegations.
She also acknowledged speaking with Bill Cosby regarding his Constand deposition, but again invoked marital privilege in not divulging what was discussed.
More than 40 women have accused Cosby publicly of sexual assault, but he has denied the allegations. The statute of limitations for many of the allegations has passed.
Bill Cosby is also being sued for defamation in separate claims filed by Kristina Ruehli, Renita Hill, and former supermodel Janice Dickinson.