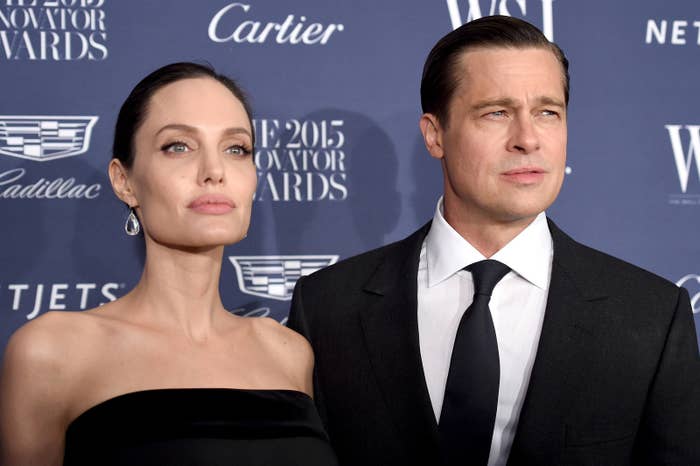 Brad Pitt and Angelina Jolie's divorce battle escalated Wednesday in response to her allegations that he hasn't been providing adequate child support.
In court documents filed in Los Angeles, Pitt stated that he has paid more than $1.3 million in bills for the benefit of both his estranged wife and their six children since the couple split. He also stated that he lent Jolie $8 million to purchase a new house.
The court filing comes one day after Jolie accused Pitt in her own documents of not paying any "meaningful" child support and that she has been raising their children for the past year and a half on her own dime. But Pitt's attorneys called her filing a "thinly veiled effort to manipulate media coverage."
Jolie and Pitt were together for more than 10 years but married for only two. Jolie filed for divorce in 2016, four days after an alleged "incident" onboard a private flight from Europe to California involving Pitt and their children. Pitt was later cleared of any wrongdoing.

In his court filing, Pitt also asked a judge to expedite the couple's divorce. Jolie is also eager to finalize the separation, but a source close to the situation said that there are a lot of legal boxes to check off — including a formal child support agreement — before their marriage can be dissolved.
"She is absolutely committed to coparenting her children with Brad and wants to redefine their relationship with Brad," the source said.
In response to Pitt's filing, Jolie's attorney, Samantha Bley DeJean, issued a statement Wednesday calling it a "blatant attempt to obfuscate the truth and distract from the fact that he has not fully met his legal obligations to support the children."
DeJean added that Pitt only loaned Jolie the $8 million when she needed to move out of the family home, which he chose to keep, including all of its contents. Pitt is also charging Jolie interest on a repayment plan, the attorney said.
"Angelina is asking Brad to pay 50% of the children's expenses," DeJean said in the statement. "He has not. Angelina has had to shoulder the majority of those without his contribution for the past two years. Child support is not optional in California. Typically, a father of means would pay these expenses voluntarily without the need for a request or court order."
The actors are among the most successful in Hollywood history. Jolie, whose Oscar-winning career dates back to the '90s and includes dozens of films, is reportedly worth an estimated $160 million. Pitt's fortune is reportedly far larger, coming in at an estimated $240 million.