Judge Delays Camille Cosby's Deposition Against Her Husband In Defamation Case
A judge on Tuesday granted Camille Cosby a delay for her planned deposition until a higher court rules on whether she can be compelled to testify against her husband.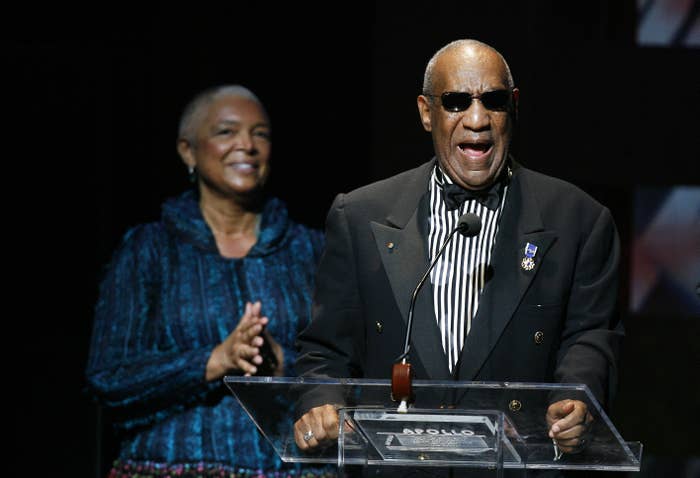 A judge on Tuesday granted a emergency request filed by Bill Cosby's wife to delay her deposition in a defamation lawsuit until a higher court rules on whether she can be compelled to testify against her husband.
Camille Cosby had previously filed a motion to block her deposition in the defamation case brought by seven women — which is scheduled for Wednesday — on the grounds that her conversations with her comedian husband were protected under a marital "disqualification rule." But the judge overseeing that case denied the request on Dec. 31, finding the marital rule only applies during trial and not during pretrial discovery.
In her latest court filing, Camille Cosby had also asked that her deposition be postponed because she believes the women suing her husband want to disclose intimate details about her marital life and her husband's sexual "proclivities."
Camille Cosby has been fighting efforts to testify against her husband since last year. The judge's decision comes days after Bill Cosby was charged in Pennsylvania with three counts of aggravated indecent assault, a second-degree felony.
The charges stem from an investigation into an alleged sexual assault at the Cosby home in Cheltenham in 2004. Bill Cosby has been accused of sexual assault by more than 40 women over the years, but the action filed by the Montgomery County district attorney last week was the first criminal case to emerge as a result.
In light of the setback, the attorney representing the seven women, Joseph Cammarata, told BuzzFeed news he is "extremely confident" the district court will rule that her deposition can proceed.
"She has information that is of relevance to the case," Cammarata said. "She has been married to Mr. Cosby for some 52 years. She is his business manager. She has had an opportunity to observe, to understand and to react to all that has been going on in Mr. Cosby's life."
In granting Camille Cosby's request, the judge warned that if her high court appeal is denied, "the parties are directed to reschedule her deposition as soon as practicable."
Bill Cosby is also being sued for defamation in separate claims filed by Kristina Ruehli, Renita Hill, and former supermodel Janice Dickinson.
Read Camille Cosby's Emergency Request Here:
Download PDF