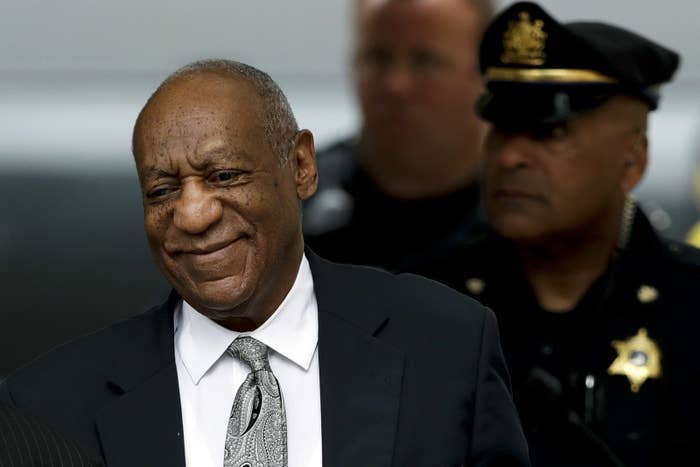 Fresh off a mistrial over charges that he drugged and raped a woman in 2004, Bill Cosby is planning to hold town hall meetings to educate young people about how to handle, and avoid, sexual assault accusations.
The announcement was made by the 79-year-old comedian's spokesperson, Andrew Wyatt, in an interview that aired on Thursday on Good Day Alabama.

"Because this is bigger than Bill Cosby, this issue can affect any young person, especially young athletes of today," Wyatt told host Janice Rogers. "They need to know what they are facing when they are hanging out and partying, when they are doing certain things that they shouldn't be doing — and it also affects married men."

"Is it kind of a, 'Do as I say, not as I do' situation?" Rogers interrupted.
Wyatt laughed and replied, "Right."
Although Cosby's jury trial in Pennsylvania ended in deadlock, the district attorney has vowed to retry the case. And more than 50 women have come forward in recent years with similar allegations that the comedian drugged and sexually assaulted them.

Cosby also faces several civil lawsuits related to the allegations.
But on Good Day Alabama, another Cosby spokesperson, Ebonee Benson, suggested that part of the motivation for the town hall series was to educate people about the dangers of false accusations.
She also said the public needs to be vigilant about statute of limitations laws being extended for reporting sexual assault.
Nearly all of the allegations made by the dozens of Cosby accusers have fallen outside various statutes of limitations.
"Laws are changing," Benson said. "So this is why people need to be educated against a brush against the shoulder — anything at this point can be considered sexual assault. It's a good thing to be educated about the laws."
Wyatt said the town halls will take place in Birmingham, Alabama, sometime in July.
Gloria Allred, an attorney who represents 33 Cosby accusers, said she believed the "workshops" are a "transparent and slick effort" to try to influence future jury members for his upcoming second criminal trial.
"Under the circumstances Mr. Cosby should not be conducting sex assault workshops, but if he does do them then the best advice he can give to those attending is that if you do not drug and sexually assault women, then you need not worry about being charged with a crime," Allred said in a statement.
In a statement Thursday, Wyatt framed the town halls as a way to respond to community requests while also combating a legal system tainted by political ambition:
My associate Ebonee Benson and I received hundreds of calls from civic organizations and churches requesting for Mr. Cosby to speak to young men and women about the judicial system.

They feel that the young men and women need to be aware that Mr. Cosby was given a deal to never be criminally charged by former DA Bruce Castor and 12 years later DA Kevin Steele runs a Willie Horton-style campaign ad saying, "if you elect me I will bring Bill Cosby to justice."

These groups would like for Mr. Cosby to share that people in the judicial system can use their powers to annul deals for personal agenda and political ambitions.
Benson and Wyatt also appeared on CNN, where they sought to recast their earlier statements on the purpose of the town halls.
"The town hall meetings are not about sexual assault. I will repeat: These town hall meetings are not about sexual assault," Benson told CNN.
Wyatt added that he had originally meant to say the town halls were aimed at restoring Cosby's legacy.