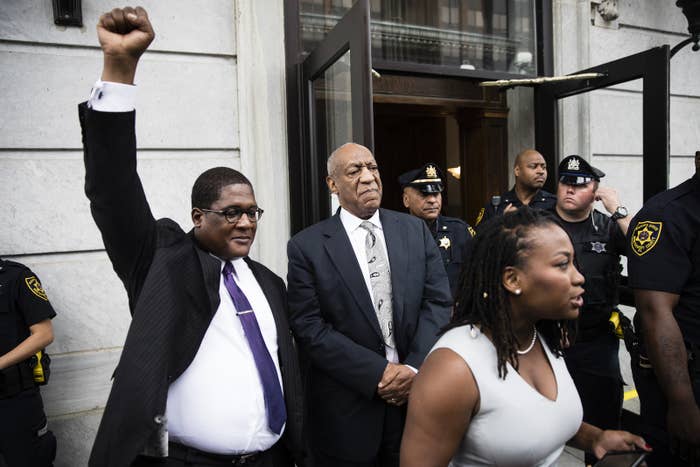 Bill Cosby on Tuesday said he has no plans to host town hall meetings on how to avoid being accused of sexual assault, just days after his two spokespeople said he would.
"The current propaganda that I am going to conduct a sexual assault tour is false," Cosby wrote on Twitter.

Last week, Cosby's two representatives, Andrew Wyatt and Ebonee Benson, told Good Day Alabama that the 79-year-old — fresh off a mistrial in Pennsylvania for sexual assault charges — would hold town hall-style meetings to educate young men about how to avoid being accused of sexual misconduct.
Benson also said the public needs to be vigilant about statute of limitations laws being extended for reporting sexual assault.
Nearly all of the allegations made by the dozens of Cosby accusers have fallen outside various statutes of limitations.
"Laws are changing," Benson said. "So this is why people need to be educated against a brush against the shoulder — anything at this point can be considered sexual assault. It's a good thing to be educated about the laws."
Wyatt also told host Janice Rogers that the issue of sexual assault "can affect any young person, especially young athletes of today."

Celebrity attorney Gloria Allred, who represents many of the more than 50 women who are alleged victims of Cosby, called the potential meetings a "transparent and slick effort" to try to influence jury members for Cosby's upcoming second criminal trial on charges that he drugged and raped Andrea Constand at his home in 2004.

But outside a Los Angeles courtroom on Tuesday, where a hearing for a separate civil lawsuit related to sexual assault allegations was being scheduled, Cosby's attorney, Angela Agrusa, told reporters that she couldn't imagine his legal team allowing him to perform or speak publicly given that the prosecutor in Pennsylvania has vowed to pursue a retrial.

"He would never do anything that undermined the importance of this issue. I don't see him speaking publicly like that," Agrusa said.
She also told reporters that there has been "a lot of misinformation" about the concept of the town hall meetings.
"Mr. Cosby will not be speaking about sexual assault," she said. "He never intended to speak about sexual assault."

Cosby's representatives had said that at least one town hall meeting had been planned for Birmingham, Alabama, in July. But after the Good Day Alabama segment aired, they issued a statement clarifying that the events were to warn people how the legal system can be used against you for political gain.
On Twitter on Tuesday, Cosby said any information about public plans "will be given at the appropriate time."
In the meantime, Agrusa said the defense team is busy "preparing for Round Two."
"And I believe Round Two will ultimately provide the acquittal that Mr. Cosby seeks in Norristown," she added.