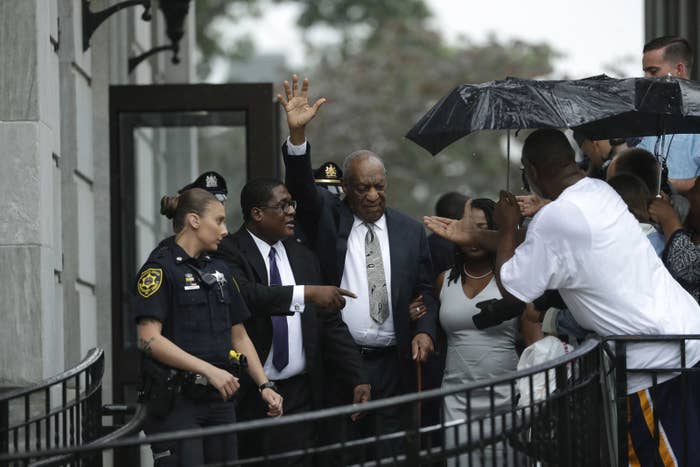 NORRISTOWN, PA — Bill Cosby's rape case ended in a mistrial on Saturday after jurors failed to reach a unanimous decision on charges that he drugged and raped a woman, Andrea Constand, at his home in 2004.
The sequestered jury of five women and seven men spent more than 50 hours over six days reviewing testimony as they tried to reach a verdict, often working late into the night. But inside a packed courtroom outside Philadelphia on Saturday, jurors said they remained deadlocked.
All jurors agreed there was "hopeless deadlock that cannot be resolved on further deliberations."

Cosby attorney Brian McMonagle immediately moved for a mistrial, which was granted by the judge.
"A mistrial is just the justice system at work," Judge Steven T. O'Neill told the jurors. "Don't feel that you let the justice system or anyone down."

The 79-year-old comedian clutched his cane and sat with his eyes closed. Constand hugged her supporters and other Cosby accusers, some of who were crying.
Montgomery County District Attorney Kevin Steele immediately announced the prosecution would retry the case.
"We appreciate the efforts and the seriousness that the jury took to their role," Angela Agrusa, another Cosby attorney, told BuzzFeed News.
"And while we were hoping for an acquittal, we accepted the deadlock. We were satisfied with the deadlock because it feels that people can finally acknowledge that the accusations against him aren't what they necessarily were perceived to be," she said.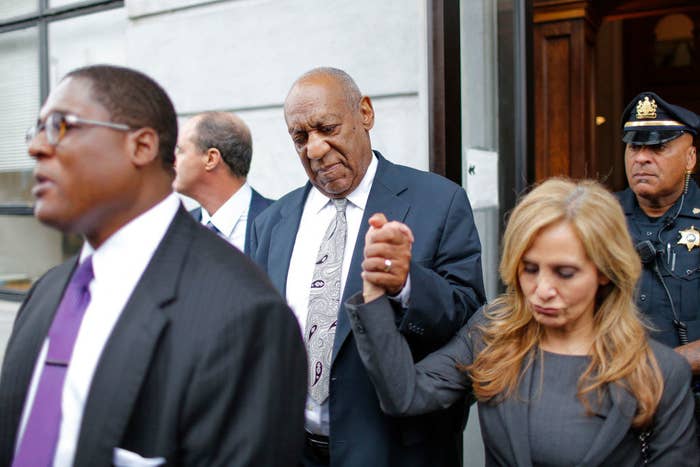 Outside the court, Cosby declined to take questions, but a publicist read a statement from his wife, Camille.
"I'm grateful to any of the jurors who tenaciously fought to review the evidence which is the rightful way to make a sound decision. Ultimately that is a manifestation of justice based on facts, not lies," she said.
Camille Cosby also accused the "overtly arrogant" judge of colluding with the "exploitatively ambitious" district attorney.
Attorney Brian McMonagle said he was proud to represent the star.
"We came here looking for an acquittal but like that Rolling Stone song says, you don't always get what you want, sometimes you get what you need," he said.

District Attorney Steele praised Constand for her courage and said her facing Cosby in court was "a good outcome."
"We will evaluate and review our case. We will take a hard look at everything involved and then we will retry it," he vowed.
"We hope that doing this and moving forward in this case sends a strong message that victims of these type of crimes can come forward and can be heard," he said.
Steele said it was important to re-try the case, even if it costs taxpayers money.
"You can't put a price tag on justice, and if you do, you're saying that because somebody's wealthy or famous, that they don't deserve the same kind of justice that everybody else does," he said.

Constand's lawyers, Dolores Troiani and Bebe Kivitz, thanked the jury for their service.
"We are confident that these proceedings have given a voice to the many victims who felt powerless and silenced," the attorneys said in a statement.
Gloria Allred, the high-profile Hollywood lawyer representing other Cosby accusers, implied the jury was swayed by the "blinding power of celebrity." She said she hopes other Cosby accusers would be allowed to testify in any future retrial.
"In other words, it's too early to celebrate, Mr. Cosby. Round two may be just around the corner. And this time, justice may prevail," she said.
The mistrial spares Cosby for now from what could have been 30 years behind bars, but it will likely do little to salvage his legacy as America's Dad with more than 50 women having accused him of also drugging and sexually assaulting them.

He also still faces multiple civil lawsuits filed by his accusers.
Cosby's spokesman, Andrew Wyatt, said earlier outside the courtroom that the case "should never have been here in the first place."
"All we have ever asked for is a fair and impartial trial and a fair and impartial jury of his peers and I think we got that," Wyatt said. "We got a fair and impartial jury, but we didn't really get a fair and impartial trial."
He also accused District Attorney Steele of using the case to further his own political ambition.
"Kevin Steele should have never brought this case forward. It should have never have happened," Wyatt said. "He has used Mr. Cosby's name, credibility, his good name, to catapult his ambitions — maybe to attorney general. Maybe he wants Jeff Sessions' job and wants to get Trump to appoint him."
The chief accuser in the criminal case, Andrea Constand, testified for the prosecution that she had come to know and trust Cosby while running the women's basketball program at the comedian's alma mater, Temple University. Cosby, who was 37 years her senior, developed a paternal friendship with Constand, who said she eventually accepted his offer to meet at his home in Cheltenham, Pennsylvania, to discuss her career plans.
She testified that after she arrived, Cosby offered her three blue pills, which he allegedly said were herbal. Soon after, Constand testified that her speech became slurred and she began to lose control of her body. She said she didn't remember passing out until she was "jolted awake" and felt Cosby's hand groping her breast and his hand inside her vagina as he masturbated.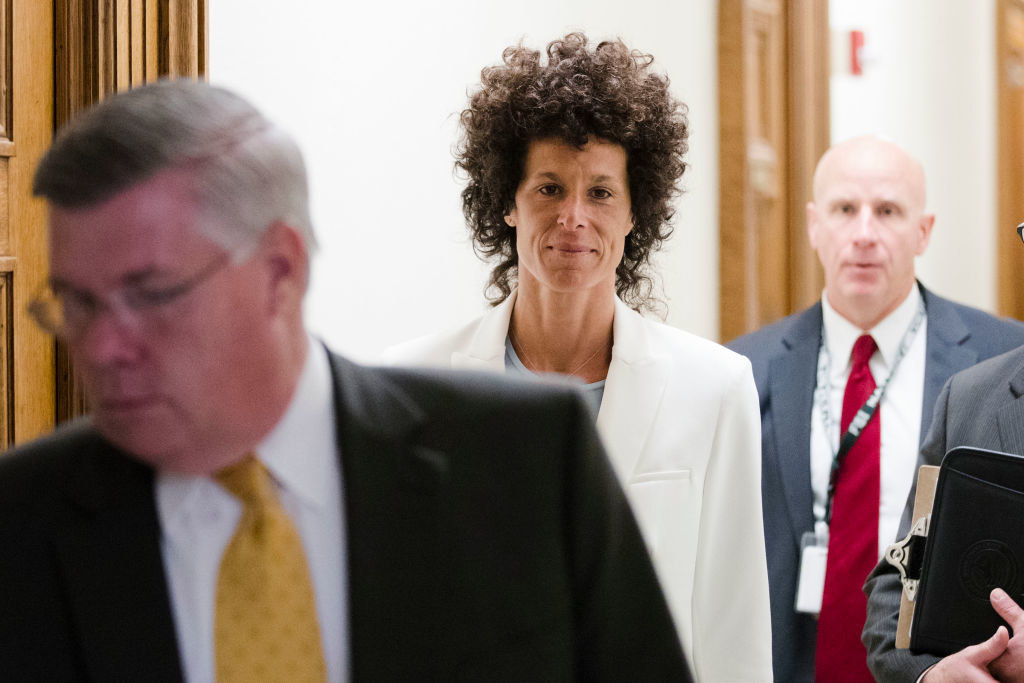 "In my head, I was trying to get my hands and my legs to move, but I was frozen," she testified.
Her testimony was bolstered by her mother, who told jurors that Cosby assured her on the phone that there had been no "penile penetration, only digital."
But the case ultimately came down to who the jury of five women and seven men believed more: Constand or Cosby?
In fact, Cosby's attorneys were so honed in on discrediting Constand on cross-examination that when it came time to present their own case, they took less than six minutes to call just one witness to the stand — a strategy that appeared so limited the judge put Cosby under oath to make sure he had approved.
During the trial, Cosby's defense portrayed Constand and another accuser who testified, Kelly Johnson, as opportunistic and untrustworthy by trying to pin them down on a handful of inconsistencies between the current testimony and statements made to authorities decades ago.
Cosby's team insisted his interactions with Constand had been romantic and consensual, pointing to phone records that showed numerous phone calls between the two. Cosby never testified in his own defense, but in his 2005 deposition that was introduced in court, the comedian said he had only given Constand Benadryl to help her relax because she told him she had been having trouble sleeping.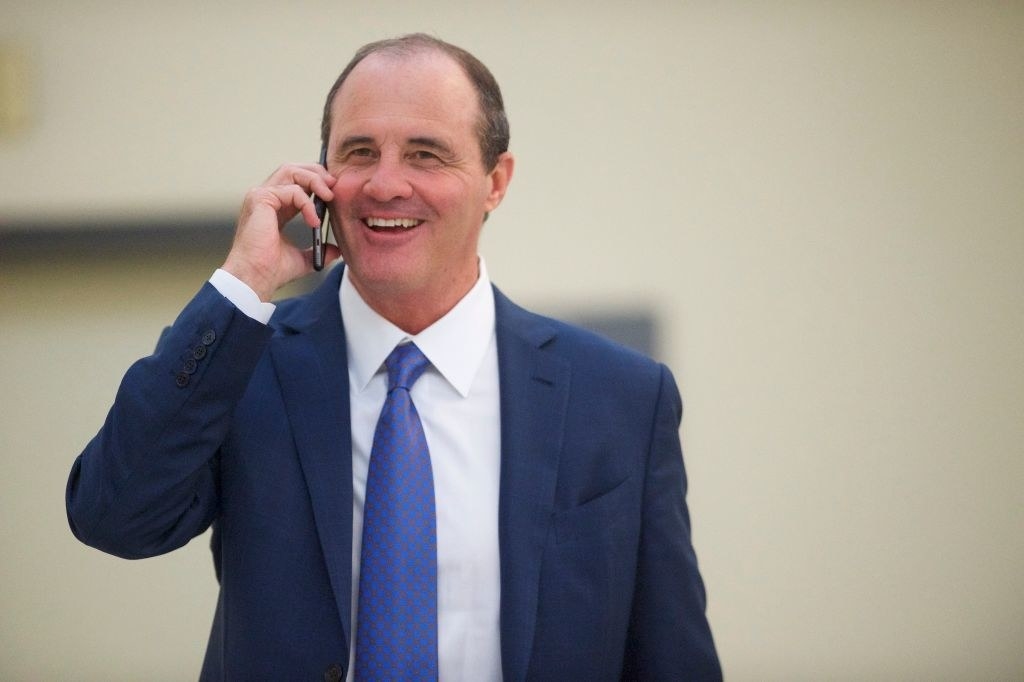 Lead defense attorney Brian McMonagle also implored jurors from the outset to approach Cosby's case as they would if it were their own grandfather, tapping into the nostalgia of his client's iconic role as Dr. Huxtable in The Cosby Show, and he begged them not to take away all of Cosby's "tomorrows."
The trial was the only criminal case to be brought against Cosby despite dozens of women coming forward in recent years with similar allegations. For nearly all of them, however, the statute of limitations had long run out, but not so with Constand.
In motion after motion prior to the trial, Cosby's attorneys argued the case should never have been allowed to be brought because of an agreement the comedian made with the previous district attorney. In exchange for agreeing to testifying for the civil lawsuit brought by Constand — which was settled in 2006 — Cosby said the district attorney had promised not to use the testimony against him to pursue a criminal case and it was sealed.

That all changed roughly a decade later after a federal judge, responding to a request filed by the Associated Press, ordered portions of that civil testimony be unsealed in 2015. In those transcripts, Cosby admitted to procuring now-banned sedatives known as quaaludes in the 1970s to administer to women he was pursuing for sex.
Even though his attorneys intervened before he could answer whether he had slipped any women the drugs without their knowledge, the damage had been done. A criminal investigation was reopened after prosecutors determined that Constand's allegations were still within the statute of limitations, and the new district attorney, Steele, charged Cosby with three counts of felony aggravated indecent assault.
David Mack contributed to this report.